All you need to know to plan and make the most of your solo trip backpacking in Africa
I spent almost 1 year solo traveling and backpacking in Africa, and I did it predominantly by using public transport.
Only snag in this regard in Namibia, where in the south public transportations don't exist and one is forced to travel with a car, I was also stuck in the desert of Grunau for a few days waiting for one of the two weekly trains, I also hitchhiked where there were no alternatives.
Traveling in Africa definitely requires a different approach from many other destinations worldwide. In the first place the diversity of the country and of its cultures at the beginning were shocks that, as the months went by, took me to vote this continent as my favorite and furthermore ,the most adventurous.
READ: BACKPACKING IN NAMIBIA, HOW TO TRAVEL AROUND
But how to prepare for a trip so intense and complex especially if you decide to travel it alone and for long periods?
In this last year I have received many emails about the black continent, from the classic issues, vaccinations and visas, to more personal matters, is it safe for a woman? How much could it cost? Can one move around by public transport? Meet other travelers? What are the things that I must expect and how should I prepare myself?
To these and many other questions, which I for one I had asked myself but that I then experienced at my own expense, I have decided to write this guide that I hope will help you all to plan as best you can, the next adventure in this mysterious and magical continent!
All you want to know to make the most of a solo trip backpacking to Africa
Visas
Africa counts well 52 countries, some are currently not accessible while others are not only easily accessible but also very safe.
Each country has its own policy regarding visas. Some can be done at the border, some countries do not ask for them (South Africa), others are to be issued by the embassy.
In principle, if you live in a city where there is an embassy or consulate of the country, I suggest you apply for a visa in advance for the simple reason that at least you will avoid the line.
For those traveling by land it is good to know in advance if a visa is necessary to have before you cross the border, or fly. Each country follows its precise rules, in some you can get the visa at the border or at the airport, in others it is required prior approval.
All information can be found on the sites of the Embassies of the respective country. For a list of information about visas for all African countries click here.
Vaccines, are necessary? If so, which ones?
Vaccines are to be done, especially when traveling in African countries at high risk.
I remember that there is no vaccine for malaria but only prophylactic and preventive care, such as antie-repellents, nets over the beds, and wear long pants and long sleeves at dusk, the mosquitoes are quite active at dusk and at night.
Normally I mix, without making unique the repellent, also the cream Ludum Palustre. But as a homeopathic remedy it is not a substitute for the repellents.
As a rule, the recommended vaccines are: typhoid, paratyphoid, viral hepatitis A, B, C, tetanus, diphtheria, rabies.
The vaccine against yellow fever is mandatory only if the traveler has recently traveled to a place where yellow fever is endemic.
Advice
Being Africa huge and different, keep in mind that each country has its own characteristics, I recommend to verify on the Travel Vaccines site which vaccine is recommended in that particular part of Africa that you want to visit.
Clicking on the country in question will provide you with all the information including health and recommended vaccinations.
How to travel in Africa
Public transport
The African public transport are very adventurous, they try the nerves and tire you up. A good part of the roads are not asphalted, generally, if we are told that a trip might last 10 hours then we can be sure that it will last longer.
For shorter distances, less than 8 hours in general, traveling is done by minibusses.
These busses, depart only when full, so even the departure times are never really those but they are rather indicative.
We must arm ourselves with patience and understand that the expression This is Africa makes sense and learn to take everything with a lot of philosophy and calm.
Most likely we will get to say so, or at least think it, on several occasions, when laughing, and when in the throes of a nervous breakdown.
For long distances and between the following countries: South Africa, Namibia, Botswana, Zimbabwe, Zambia, Malawi, Mozambique, the Intercape company connects the principal destinations, and tickets can be bought online.
For the rest of the countries not shown in this map, and covered by this Company, the tickets can be bought at the station or at travel agencies (with 1 or 2 days in advance), presenting your passport, and payment in cash.
For shorter routes instead, the destinations are connected by minibuses, that depart when full, filled-up, and I intend to three people on seats for two and people standing, and they make many stops, payment is done in cash on the bus.
Pros and Cons of the journey by public transport
This type of trip is suitable for those who have a lot of time at hand, do not have limited number of days and a regular daily itinerary, who have a strong sense of adaptability and is ready for all contingencies.
Some trips are very long and tiring and sometimes a day is required to recover from the fatigue. Absolutely not recommended for those with limited time and would like to do/see a lot.
Also not recommended for those who want to travel in comfort.
The pros of this mode of travel is obviously that you travel with the locals and you can savour the real African life not without the unexpected.
Cars & Motorcycles
Many people opt for the Self drives in Africa, some depart from Morocco and then make their return from Djibouti, a trip that takes at least one year, with their own cars (4×4) and their own bikes.
If this obviously makes the journey even more adventurous and exciting, I discovered that it is also at times more stressful as, in addition to the travel carnet, it is also required the approval from the countries to go through them with one's own vehicle.
Therefore it is quite frequent to have to wait days, weeks when, to have the approval, and in the case it does not arrive, then it will be necessary to review the travel itinerary.
To know more about the carnet de Pasage click here .
Safari Self Drive: is it always a good idea?
This is a question that I am asked quite often. My answer is depends on the Park or the reserve that you choose
If for example in South Africa or Namibia the trails of the parks are well marked and follow precise paths, this is no longer true in parks such as those in Tanzania, Kenya, Zimbabwe or Zambia where, to fully enjoy the fauna, a guide who knows how to move inside them, who recognizes the animals at a distance and who speaks the local language, is highly recommended.
In the parks of Tanzania, for example, all the vehicles are equipped with walkie-talkies and the guides, who speak Swahili, communicate with each other inquiring about where the animals are being spotted.
This would not be possible if you were doing self-drive for linguistic reasons but also for the total absence of maps, easy to get lost in the Serengeti and not to find the way anymore.
To examine the question Safari click on: Guide to Safari in Tanzania
[su_photo_panel background="#fffff" shadow="0px 1px 2px #eeeeee" photo="https://www.viaggiare-low-cost.it/wp-content/uploads/2015/09/leonessa-001.jpg"]
Safari Self Drive: is it always a good idea?
This is a question that I am asked quite often. My answer is depends on the Park or the reserve that you choose.
If for example in South Africa or Namibia the trails of the parks are well marked and follow precise paths, this is no longer true in parks such as those in Tanzania, Kenya, Zimbabwe or Zambia where, to fully enjoy the fauna, a guide who knows how to move inside them, who recognizes the animals at a distance and who speaks the local language, is highly recommended.
In the parks of Tanzania, for example, all the vehicles are equipped with walkie-talkies and the guides, who speak Swahili, communicate with each other inquiring about where the animals are being spotted.
This would not be possible if you were doing self-drive for linguistic reasons but also for the total absence of maps, easy to get lost in the Serengeti and not to find the way anymore.
To examine the question Safari click on: Guide to Safari in Tanzania [/su_photo_panel]
[tg_divider style="faded"]
Overland tours
As I have written about Namibia this is a highly rated option to those who have little time and cannot bring himself to travel alone. The overland tours are nothing but group tours that follow a prescribed route and touch the main destinations.
An overland highly rated and not even very expensive is, for example, the one that starts from Namibia and touches Botswana and the Victoria Falls, usually 20 days cost about $2200 per person all inclusive.
Pros and cons of Overland Tour
The overland tours are recommended to those who have little time at disposal, do not want to travel alone and want to get a general view of the most interesting points of the country, want to spend less than they would by hiring a private car and prefer to travel in the company of other people.
The counter is obviously that the itinerary is defined, that you cannot choose your traveling companions, that it costs more if you were traveling independently (but less if you did the same tour but in private mode), that it is still a group trip and this must please you.
For information about overland group tours for backpackers or for private trips in Namibia/Botswana/Tanzania/Ethiopia write me an email (info @ viaggiare-low-cost.it) and I will be happy to advise you of the excellent operators focused on travel for backpackers and ethical travel!
Hitchiking
It can be done, I have done it on several occasions in Namibia where it is a fairly widespread practice among the locals because of the lack of transportation.
This mode of travel is not without risks so I cannot say it is 100% secure, nothing happened to me, but, unfortunately, no one can guarantee.
In fact it is a very common way to travel and, after doing it a few times, it even becomes fun.
Obviously traveling by hitchhiking takes time and patience, there is a margin of danger and I advise to do it only when necessary.
Generally one has to give something to whoever offers the lift, in Namibia it is a habitual practice and one always asks before accepting how much it would cost.

Sleeping in Africa
Just like everything that concerns the immense African continent one cannot generalize, but in my experience if in South Africa, Namibia, Botswana and Zambia you can find very well organized and affordable hostels, some allow you to pitch a tent, which you have to have, in East Africa hostels do not exist.
The solutions are local hotels, starting from $10 per night, which definitely do not represent the ideal rooms that a traveler, a little more attentive for details (cleanliness, comfortable beds and a minimum of style) can appreciate. The situation is therefore complicated in East Africa where the economic rooms are very basic and the only alternative are the lodges and superior hotels.
Is it possible to book online?
Not always and not everywhere. In countries more accustomed to independent tourism, it is possible to reserve rooms or beds in a hostel online.
In Tanzania or in Ethiopia, if you want economical solutions the best thing to do is finding the room only when you get to bus station.
In many cases, not even in hotels of a higher category is possibile booking online and in advance, and, however, you will easly find a place where to stay, as long as you won't be that picky!
In countries where there are hostels, these can be booked online with no problem. In general, I have always booked on booking.com, from this box you can search for the destinations that interest you. The websites I used to use for online booking are: HotelsCombined and Hostelworld.
We must not take it for granted that there are hostels everywhere, especially in the villages and the small towns, where, in any case, it is quite easy to find guest houses or local hotels.
I generally recommend to book nights in large cities, and in smaller cities or towns, the rule of arriving at the bus station and ask around (without being too pretentious) works always.
My strategy in general is as follows (stating beforehand that I always book the nights in the big cities in advance):
Arriving at the bus station, here there is always someone that for some money is willing to accompany me, I explain my requests and budget (usually I do not want to spend more than $15 per night).
Check the room, if I like it I will stay otherwise I will try elsewhere.
Advice
For those traveling in Namibia, Botwana and Mozambique it is advisable to bring a tent, sleeping bag and mattress. These countries are very well equipped and offer very beautiful and rather widespread campsites throughout the country.
Having a tent with one can make one save about 80% compared to sleeping in rooms in lodges and huts.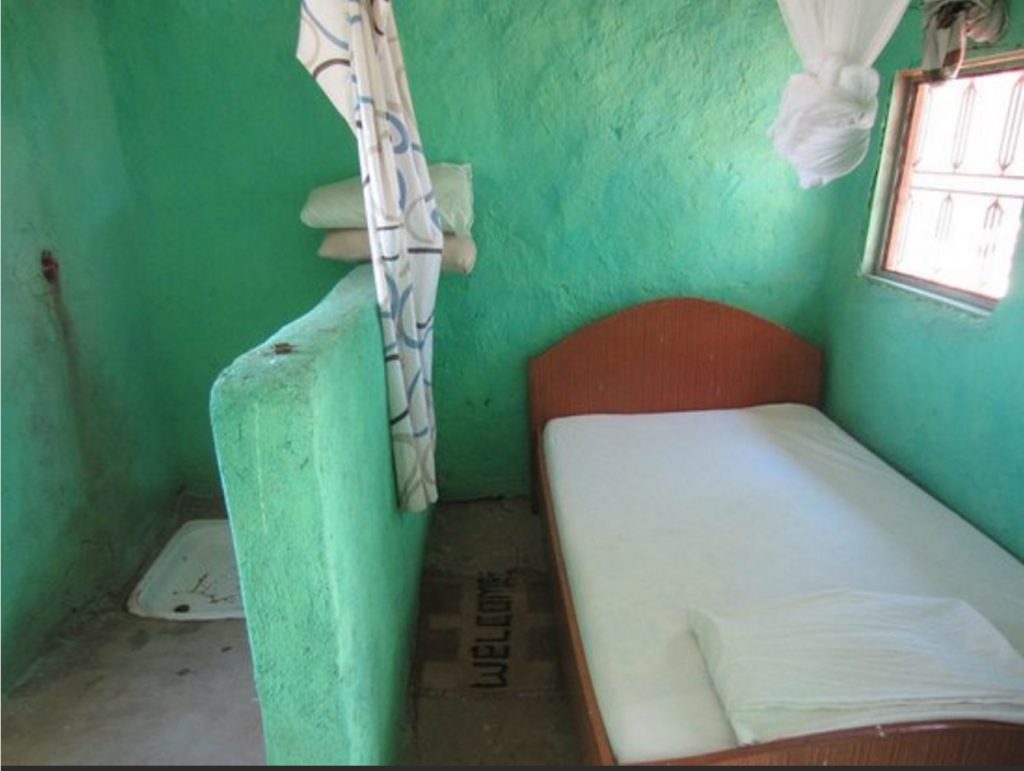 A room in economic hotel in Turmi, Ethiopia

Safety – Is Africa dangerous?
If you are traveling in politically stable countries, and I do not see why you should choose alternatively, absolutely yes. I cannot say to find Africa dangerous as has happened in some Latin American countries where crimes are very common.
Although I not think that Africa is dangerous, it is also true that I have always adopted behaviors that could avoid unpleasant situations trying not to voluntarily put myself in unpleasant situations (walking alone at night, going into neighborhoods without knowing whether it is dangerous or not, trust anyone whom I have met etc etc).

Common hazards in Africa
Thefts in crowded areas in the markets
As in most part of the world, pickpockets are always hovering in crowded areas just like the markets in Africa. Taking simple precautions, such as wearing a haversack on the chest and not carrying along all documents and too much money, the dangers can be avoided without problems.
Taxis in the large cities
This is a problem that exists in particular in Dar Es Salaam, the so-called Mafia of the taxis who kidnap the traveler and take them to ATMs to withdraw cash to hand over to them.
It is good habit to have a trusted taxi driver or to organize the transfers with hotels, generally cost more but at least you travel in safety.
Thefts in Hotel
This can happen anywhere, although I admit that I have never heard of them in 10 months of travel, but to avoid of misunderstandings it is always good practice to take the usual precautions: close everything with a padlock when you leave your belongings in the room, have the possibility to lock your suitcase/backpack with padlock (it is not common to have boxes to be closed), hold your own things in more bags.
How to choose the right destination in Africa
Unless you have a year available that would allow you to visit most of the Continent, but not all, the choice of destination has to be done according to your own interests.
The biggest mistake that anyone who writes to me asking for advice does, is to believe that Africa is all the same.
What great mistake! And it is from that big disappointment that you may suffer.
Africa is not all the same, like the Africans themselves are not, it would be like believing that an Italian temperamentally or for uses and habits is equal to a German.
Or it would be like believing that the sea of Sicily or that of Greece is the same that you could find in the UK or in northern Germany.
Africa is as varied as are varied all the continents and choosing your destination is just as important as the rest of the information contained in this post.
The questions that need to be asked are the following:
Sea or mountain?
Safari or culture?
Town or rural life?
Self drive or minibus?
What budget do I have?
How long am I planning to travel for?
Are there activities that I do not want to give up?
As I have explained on other occasions, the choice of destinations, where no one knows where to go should be carried out on exclisions by following a more or less logical process.

Here we are, very slowly we have outlined the feasible destinations simply by answering the questions we should ask.
Obviously in many other cases, the factors that influence are much more and different, but as a rule the choice of the right destination is the fundamental part for one's own travel.
What to pack for a trip to Africa
The dust will be constant during the journey in Africa, it is best to take with you comfortable and quick to dry clothing.
As a rule, I advise not to exaggerate with the clothing but to carefully select them. In my backpack that rarely exceeds 12 kilos, even for seven months, these are the things that must not be missing:
T-shirts
Comfortable and light trousers
Socks
Walking shoes
Scarf (against the dust)
Windbreaker
Sweatshirt
Torch
Medical kit (do not forget an anti-diarrhea, you may need some)
Mobile to use local SIM cards
Tent, sleeping bag and mat *** Highly recommended in Namibia and Botswana
Adapters
External Batteries
Kindle (the long and dead times will be many and even those without electricity!)
flip-flops
Costume (if you travel in coastal areas or islands)
Padlocks
Microfiber towel for the shower
Many African countries are conservative, some have a high number of Muslim population, it is important not to wear too short shorts nor too low-cut T-shirts to avoid offending the sensibilities of the people who, regardless of religion, are very conservative.
Woman travel solo in Africa
Is it dangerous for a woman to travel alone in Africa?
I am a woman and although I have been traveling alone for more than 10 years the idea of going alone in Africa has terrified me.
Unlike what I was afraid of, I found the black continent a very pleasant place and gratifying for a woman who decides to travel alone.
The community will take care of us, they are definitely intrigued by seeing a woman venturing alone, there will be curious questions in this regard but the strong sense of community in Africa will make everyone feel at home.
Especially the women who will receive protection and attention from everyone.
Easy to conclude, no it is not dangerous for a woman to travel in Africa. It is important, however, to respect the culture and traditions of these countries rather conservative by avoiding to wear low-cut dresses or short shorts.
Sobriety must be essential and compulsory.
That Africa is not as dangerous as other countries does not mean that we can take the security issue less seriously.
Generally it is always good practice to take the following precautions:
Do not walk in the dark and at night
Do not bring valuables with you and do not display them
Be careful when you change money on the street
Ask your hotel if you can call taxis
Carry padlocks with you and when you leave the room make sure you have everything secured
Before you venture into certain areas ask at the hotel if it is safe
Ask before you take a picture, some people become aggressive if taken by surprise
Keep the money in small purses that can be kept on a chain round the neck and under the T-shirt
Never go out with passport and credit cards on you unless you need to
Take along a copy of your passport
Walk confidently without ever seeming lost
Do not let the people in the street annoy you, be harsh if the situation so requires
If you are the victim of a robbery, let go and give what you have
In the cities get your hotel to call a taxi for you and if you stay for long, make sure you have a taxi driver you trust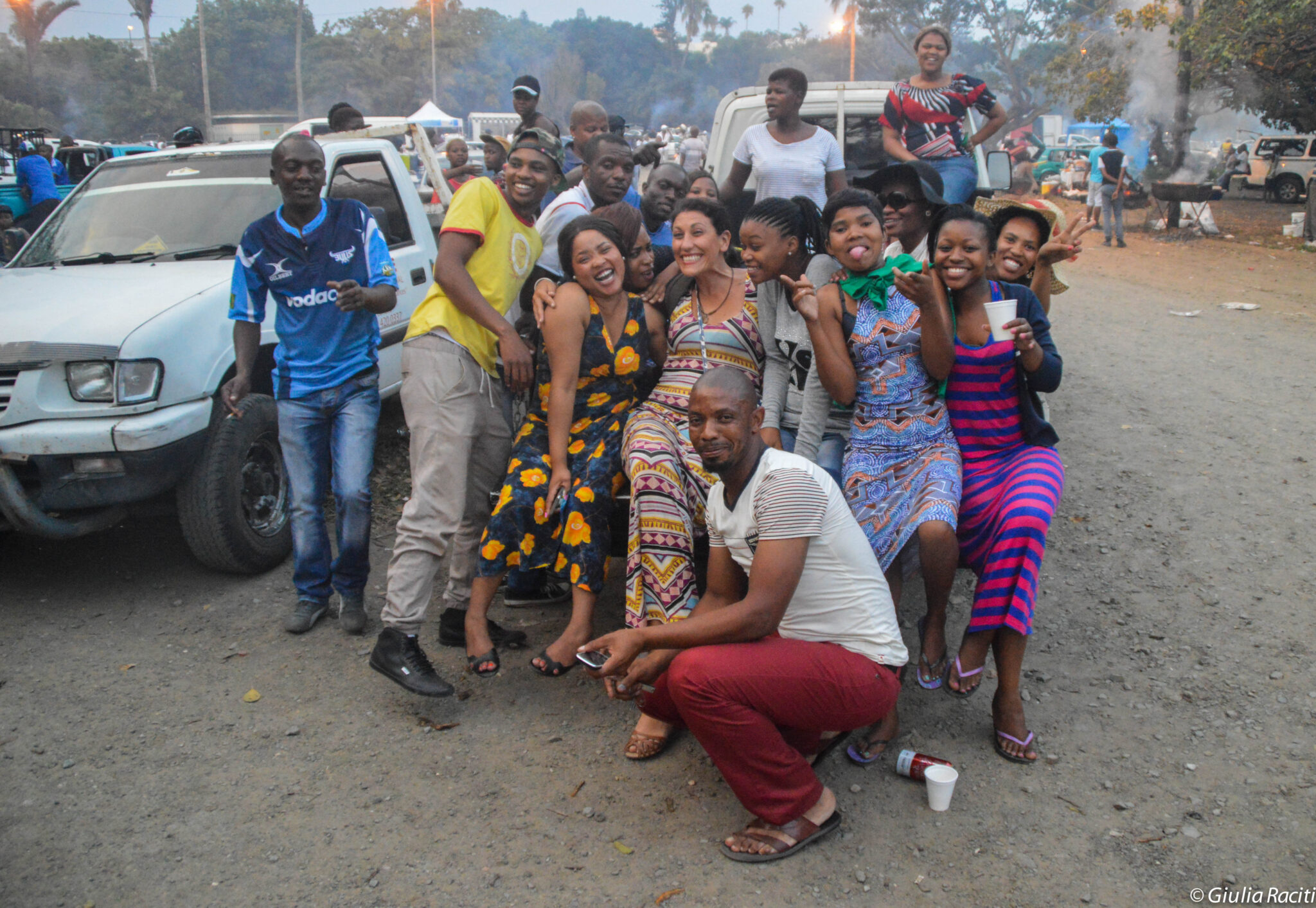 Backpacking in Africa and travel companions
Africa is a continent not yet developed for tourism, if not for a tourism mainly for the elite and of organized trips.
In my experience, apart from South Africa, Namibia and Botswana the rest of the countries I know are still not destinations for backpackers so the opportunity to meet other travelers generally is limited to the capitals.
Once outside it was rare.
Exceptions are the days of tours (Danakil for example, Omo Valley or Safari in Tanzania).
Internet in Africa
Sore point for digital nomads who will find it not their cup of tea here. Africa is not yet ready for the digital nomadism, the internet connections, except in South Africa and in some hostels, is not to be taken for granted, and on many occasions, seeing that I work online and cannot afford to be offline for too long, I have been saved by the data connection.
I recommend to make a sim card with data in each country, generally costs a few euros, and they usually work pretty well almost anywhere except in the most remote areas.
In Africa we have to get used to the slow times, and even in this case we cannot hope otherwise.
The presence of wifi in bars and hotels is rare although in recent years I have seen that it is spreading more and more.
Typical situations in Africa and how to behave
A trip to Africa is very often uncomfortable and with few amenities, unless you want to reduce to a safari in lodge.
These are quite common and frequent situations for anyone backpacking in the continent.
Lack of electricity and hot water
It happens very often, and we cannot make an issue of it. The power cuts are frequent, in Lusaka in the 4 days that I was in town for 3 and a half days there was no electricity.
In Ethiopia power cuts occurred often. It's always good to bring along torches that will come in useful on several occasions
Long waits for minibuses
This is how it's like traveling in Africa and often, unless it's not about very big buses that generally depart on time, but not always (it happens that they say they will be at the station at 5:30 except that the departure will not be before seven )
Do not travel at night
This is true whether you are traveling with the means of transport or traveling by car.
The buses never travel at night, night travels are banned but usually departures are set at dawn.
For those traveling with their own means it is highly recommended not to travel at night because there is no illumination and the roads are damaged, potentially dangerous.
Faranji-Faranji or Mzungu Mzungu
They call us so maybe holding out a hand asking for money, the chanting will be constant "Mzungu, Muzungu" or "Faranji Faranji". We have to get used to them and even answer in tone, after a few days we will not even be aware of them.
In anyway, both words mean "foreigner" a way to call tourists.
Decisively much lower standards than Europe
Not always but especially in East Africa the quality of services is much lower than that of Europe so even a 3-star hotel will seem inferior to that of a European 2-star.
The costs are high for what is on offer. Probably in the next few years things will change but as my friend Nure in Addis says "the clean Ethiopian is very far from the concept of clean you have in Europe".
Eating with hands
You'll have to get used to this mode although now often even the street restaurants provide cutlery for tourists, certainly beside you, everyone will be eating with their hands.
Even the spaghetti.
Credit cards or cash?
As in many non-European countries the use of the credit card is not common and it is recommended to have always cash with you, most likely all, even tours of hundreds of dollars you will have to pay with banknotes.
In general all cities have banks and ATMs. I advise to take with you also American dollars or Euros to change for the emergencies (if an ATM is not working or if the card is suspended).
Always have cash along because everything: sleeping, eating, transport etc will have to be paid only and exclusively in cash and never with credit card.
Is it true that traveling in Africa is expensive?
It 's true and I cannot deny it especially if you want to live your travel experiences for which Africa is famous (safari, climbing the Kilimanjaro, deserts, encounters with gorillas etc).
Although Africa is very poor, and most of the population lives in poverty, that the salaries that sometimes do not exceed $100 per month for a family, for those who travel the costs increase by a lot.
Living life the African way is possible but this means giving up a lot and not to be squeamish.
And even then it is not economical as for example it is in South East Asia.
The costs of Safari or trekking are very high in some countries, for example Tanzania and Zambia, and lower in others. As a rule, however, I cannot say that traveling in Africa is economical, a substantial budget is needed and the reason is quite simple.
Tourism in Africa has always been a luxury tourism that is beginning to open up to half-measured solutions but that still are very far from continents such as Latin America and Asia.
Thinking of traveling to Africa with just €500 a month is a little unrealistic especially if you want to do the classical activities, the minimum required budget, in essential conditions (tent, public transport, essential tours, local food) I think can be around almost €1,200 per month, more, at least three times more if you want to do the safari in Tanzania's northern parks.
How to deal with the locals
What you will probably take home of Africa, in addition to the many photos, are the loving and kind people, their smiles and their desire to know you.
Do not be intimidated by them but pander them, spend some time with them.
But do not let them move you to pity giving money or candy to the children, this is the worst thing you can do.
Buy food or take these people to dinner with you, let them guide you and pay them for the services performed, for the kindness offered, but giving money involves creating a vicious circle, which is already underway, of addiction and loving Africa risks, further along the years, to become a place where you cannot go out unless you distribute money to anyone who asks.
It will be tough, especially when they are the children to want something, but you must act differently. Make donations to schools, take these people to the restaurant, make them understand that you are not a wallet with two legs, but that you're happy to share some of your time with them.
This will be a prize for you, but also, and perhaps above all, for them.
Learn the basic words of their language:
Thanks
Please
How are you
What's your name
My name is
How are you?
I'm fine thanks
You won't be able to hold a conversation, pretty clear, but your effort will be appreciate
The one million dollar question: Will I feel alone?
I believe that in Africa happens something that doesn't really happen elsewhere (or not like it does here), the impossibility to feel lonely even when you do not meet other travelers, which is frequent.
Africans are not only curious, they will approach you without any problems, but they also don't understand the meaning of solitude. Nor the pleasure or, sometimes, need of being alone for a little bit.
After nearly a year in Africa I realized that for them the concept of solitude is unthinkable, they find great difficulty in understanding how it is that we have pleasure in staying on your own and, even when not request, will do everything possible not to even leave you a moment. On several occasions, I had to turn off the phone so I could cut myself some time.
Africans live in community, sharing everything and always walking in groups, which is why, those traveling solo, probably will not have any trouble finding friends wherever they go. Probably the doors of the houses will be open, and if you are not invited to dinner, I'm sure, you will be invited even to sleep and spend days in family.
As with all solitary travel, situations of solitude will have to be created by ourselves, here in particular where we are always surrounded by people.
But I'm equally sure that suffering solitude will be the least of the problems. Just a little opening up to get into the heart of African life right where all experienced travelers want, from the inside of the houses and in family spaces.
Should you be scared of traveling solo in Africa? Not at all. Just make this jump in the black/kind Continent and let the good vibes flow in.
You will love it and you will end up having the most adventurous trip ever!
Have you traveled to Africa too?

Didn't I mention anything you want to know?
Leave a comment and I will be happy to answer all your questions!