I had heard that Copenhagen was expensive but to experience it is something else.
I gave myself 48 hours , not more, to discover the Danish capital.
Thanks to my traveling companion, and to Frederic who hosted us, I was able to bring together the best of Copenhagen in no time , or at least what I believe as the best, and to soften the blow of the high costs of the Scandinavian capital.
Riding a bicycle, the cuts chosen to understand Copenhagen in just a weekend were: the districts and the attractions for free. As already understood, in this post, I list the free stuff , adjustments or additional suggestions always welcome , in the next one, the districts and my personal vision of this complex and attractive city.
Christiania – Hippy Happy People
The Free City of Christiania (in Danish : Fristaden Christiania) is a self-proclaimed autonomous district in which inhabitants are about 850 people, in the Christianshavn neighbourhood.
Christiania is considered as a great town with a unique status regulated by a special law , the Christiania law of 1989 , which transfers the control of the territory in this municipality of Copenhagen with the intention of creating an alternative society in order to obtain autonomy from the Danish government.
Why is it so special?
Christiania has always been a source of controversy since its creation. in 1971 when a group of hippies occupied a disused naval base consisting of abandoned military buildings on the outskirts of the Danish capital.
Here, today, more than fifty different collectives exercise handicraft, cultural, theatrical, etc activities.
Christiania has its own kindergarten, bakery, sauna, bicycle factory, typography, free radio transmission, restoration workshops, cinema, bars, restaurants, places of entertainment.
Christiania is famous for its main street, known as Pusher Street, a name that speaks for itself, where hashish is sold in special kiosks (NOT legal but tolerated, just incidentally speaking).
A small hippy world light years away from the clean, tidy and stylish Copenhagen populated by extremely blonde males and females on bicycles .
An interesting insight that reflects once again this rigidity mixed with freedom that is typical of the Nordic countries.
NB. Photos are prohibited in respect of the liberty of those who live in this original and eclectic neighborhood.
Greet the sad Little Mermaid
The Little Mermaid, in Danish Den lille Havfrue, has become a national symbol for Denmark, small, delicate and graceful woman with a sad look, and with the legs formed like the tail of a fish who sits on the rocks in the bay of Langelinie.
The story of the Little Mermaid, whose original version written by the Danish author Hans Christian Andersen is less happy than that of Walt Disney, it tells the sad tale of a young mermaid who saves a prince fallen into the sea during a storm. She falls madly in love with him and wants to leave the sea to live on earth.
To find her prince, she gives up her voice in exchange for a pair of legs: she has three days to receive the kiss of love from the prince which will transform her into a human being but , if she does not succeed, she will be turned into sea foam.
The prince is attracted by her, but does not recognize her: he only remembers to be saved by a girl with a magical voice and, eventually, marries another woman.
With a broken heart, the Little Mermaid launches herself from a cliff and is transformed into sea foam . A tragedy that took her to regret her choice and her sea, of which she still looks at, to this day with sad eyes and regret.
I thought it was "Rock", I only discovered later the sad story. Who knows if she had smiled at my foolishness.
Copenhagen needs to be discovered by bike
Copenhagen va orgogliosa del suo status di città delle biciclette grazie al fatto che è  stata sede del primo schema urbano di bike-sharing su larga scala, modello che poi si è esteso ad altre città in Europa. E visitare la città in bici è a costo 0, impatto 0 ed ecologico al 100%.
Copenhagen is proud of its status as a city of bicycles due to the fact that it was home to the first urban bike-sharing scheme on a large-scale, a model which was then extended to other cities in Europe . And to visit the city by bike is at 0 cost , impact 0 and ecological to 100 %.
The Citybikes are distributed on 110 stands scattered throughout the downtown area, they are recognizeable, are all white and aligned , the costs start from 25DK per hour.
Alternatively at the bike shops, the rental for 24 hours costs about 80DK or you can put your trust in a non-profit association, Copenhagenfreebikerental.org, which adjusts broken bikes and get them back in shape to then rent them to visitors who wish to explore the city on two wheels , as I believe would be the right thing to do. The cost? A donation to your liking!
Here's where to find them ( all the information on the official website ): Copenhagenfreebikerental.org
Do you think cycling is dangerous?
Copenhagen has a large and well-designed system of bike lanes, equipped with their own traffic lights and the cyclists are less aggressive than those of the Dutch. A breeze and the best choice to make to discover this beautiful city . Ah , Copenhagen is so flat that flatter than that could not be, the gears are for Lazy People!
Interested to know more about Bike Sharing? Click here!
Treat yourself to a stop at the Botanical Gardens
Copenhagen is home to bikes and also many beautiful parks and gardens scattered throughout the city center, especially the botanical gardens which are free and are well suited to be a place of rest and nap, as well as intermezzo, on visiting days, thanks to 25 hectares of manicured gardens gorgeously renowned also for the vast complex of historical greenhouses dating back to 1874.
Needless to dwell on it … if a garden is beautiful it is beautiful. That's it!
Let yourself be guided for free
The tours that are held in summer every day , starts at 11:00 am from the steps of City Hall , the guides are all volunteers . As good tradition wants, at the end of the tour a tip at one's own discretion is called for.
Generally a classic tour touches : Tivoli, Royal Palace, the Marble Church and talks of the city in a historical context made up from the Nazi occupation , the Resistance of the Second World War and of the oldest royal family in the world . Recommended to book in advance.
For more information click here : Copenhagen Free Walking Tour.
In Copenhagen culture is free
On Wednesday the entrances to the Museum of Design and the Thorvaldsen Museum are completely free.
The Design Museum, which is the largest museum in the country, exhibits pieces of national and international design including collections of contemporary works in the field of industrial design and of decorative and applied arts. Admission is free even for access to the vast library, to the beautiful Design Studio and to the picturesque garden.
The museum of Bertel Thorvaldsen, Danish sculptor who lived from 1770 to 1844, exhibits the beautiful plaster and marble sculptures, models, paintings and drawings combined with an excellent collection of works of art and artifacts of ancient Greece, Rome and Egypt .
Copenhagen Jazz
At the beginning of July each year the streets of Copenhagen play Jazz music, the locations are beautiful as unexpected , for example the stately gardens of the Carlsberg Brewery .
The festival takes place by now since 1979 , although in truth something had been thought at the Tivoli gardens since 1964 .
The dates change every year so to stay up to date on the events, this is the official link: Jazz.dk
Copenhagen Street Food
Copenhagen Street Food on Papirøen (Paper Island) in Copenhagen is the first and only real street food market of the city.
The food is cooked and sold in small trucks or containers, cuisine from all over the world, Thai, Cuban, Mexican, Italian, starting from 50 DKK. Not only that, once you have bought the food you can lie on a deck-chair overlooking the river and watch the city from beyond the canal.
The ambition of this meeting place, which is not limited to food, is to create a high quality food market where culture, cuisine d'arte meet.
The food is mostly organic and kilometer 0, the motto of Copenhagen Street Food is: Authenticity, honesty and aesthetics."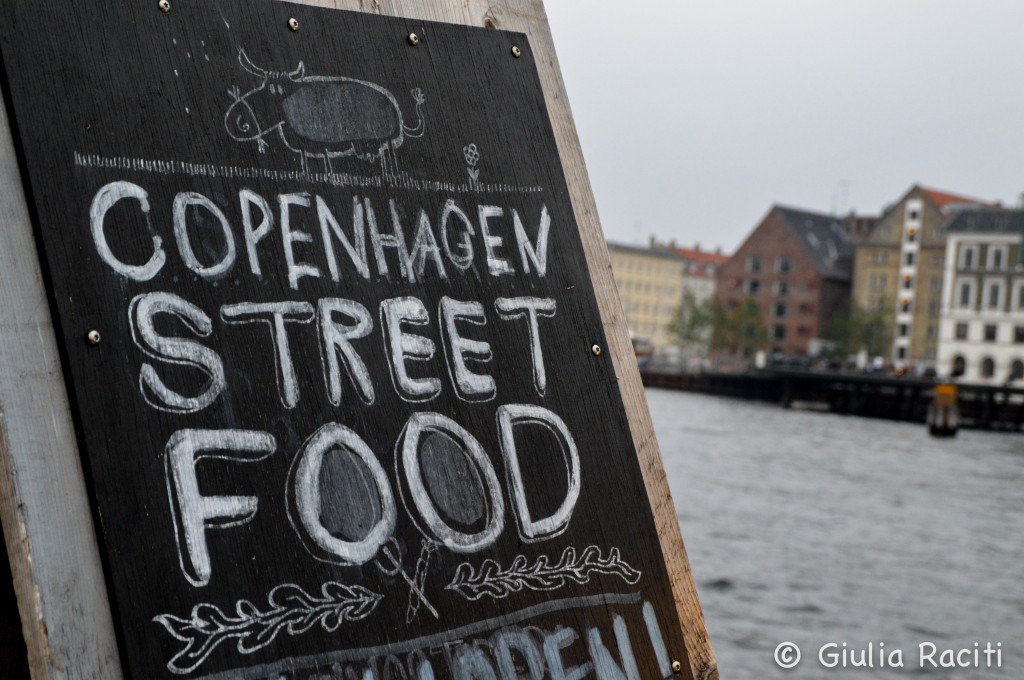 Copenhagen Street Food is also a place for creative souls such as artists, musicians and djs, because in addition to food a DJ plays all day, the bar is open from 10 am till late while for eating the kitchens open at 12 until 22. In the meantime the music continues to play and also, sitting around a fire, you can entertain with the smiling and always polite Danes.
To know more and learn about the events this is the official link: Street Food Copenhagen