You will say, is there really need for a post about greek food? Can't we just sit in the first nice restaurant that we see and order? Sure you can do so. However, if you have never been to Greece, some tips can help you choose and maybe even save a little something.
Unfortunately, it is increasingly more difficult to taste the real, traditional Greek cuisine: especially in places most frequented by mass tourism, the offers of taverns and restaurants has been standardized, offering little variety of dishes and flavors.
For this reason the idea of this post in the form of mini-guide to the taste of Greek flavors that will take you from breakfast to dinner!
Breakfast
Paradoxically, to have breakfast outside the home, may cost proportionately more than a lunch or a dinner.
Most of the bars, but also some taverns/restaurants, especially on the smaller islands, serve breakfast in different ways: that of continental style, with coffee, toast with butter and jam or croissants, eggs and orange juice, sometimes at a fixed all-inclusive price.
Beware though, usually, the jam is factory-made and even the orange juice is not fresh, but canned or tinned.
If you have the patience to wait for the coffee powder to deposit to the bottom of the cup, try the Greek coffee, specifying how sweet you want it (they'll ask anyway).
If you want a breakfast "to the Greek", namely: butter croissant, yogurt with honey and dried fruit, fresh squeezed orange juice, coffee (Nescafe in general, or what they call "filter coffee", ie concentrated and abundant) put in mind to spend more.
So, first calculate on the menu the total cost of your breakfast, considering how and what to eat for lunch.
I usally prefer to organize myself to have breakfast in my studio where there is always a stove or a kitchenette to make coffee. If you do not find it already in the room, almost everywhere now on sale are sachets of instant coffee and sugar.
Add fruit juice and yogurt and fresh fruit.
In a bakery, I buy local biscuits in the amount I need. Thus, with a very low cost, I give myself rich breakfasts at the hour I want.
In fact, if you have to be up early for an excursion or just because you feel like it, you may have to skip breakfast because bars and taverns (except for those at the ports) open only after 8:30/9:00.
Appetizer
For me it is a real ritual, especially if I can enjoy it on a sunny terrace, overlooking the bay and maybe while I admire the sunset.
Again, in this case, I do it the Greek way, with ouzo and mezèdhes.
Ouzo is an aniseed-flavored liqueur that is served neat, with a glass of water in hand. It's limpid, but add the water and it will take on a milky color and is much more refreshing. The mezedhes are small appetizers such as olives, pieces of cheese, meatballs or fish.
After a day of sun and sea there is nothing better to celebrate joy of living and being in a beautiful location! If you happen to find some authentic ouzeri, you must absolutely stop!
Like the old kafenieia, they still offer the opportunity to enjoy an authentic experience of local culture: frequented by middle-aged and elderly Greeks with caps on their heads, who spend time shelling the rosary between their fingers, they are often ramshackled environments, with bare bulbs and rickety chairs.
Especially in the rural areas, it is hard to see the local women, even if lady travelers are greeted with curiosity and grace, especially if dressed discreetly. With some luck, in some kafenion, in the evening you can find the traditional music concerts live.
Lunch and dinner
I usually never eat lunch at the restaurant, if not rarely a fresh Greek salad.
In fact, I prefer to take with me bread, a tomato, olives and a some fruit, whether I spend the day at the beach, or trekking on some path.
Or else, buy at the usual oven a tyropita (puff pastry stuffed with cheese) or spanakopita (pastry with spinach). Where there are no supermarkets, there are still, in any case, the emporiums that sell a bit of everything, including fruit and vegetables.
If you are among those that must necessarily have a real lunch, even on most beaches you will find one or more "taverns" where to stuff yourself, in some truly stunning locations, perhaps under the pine trees and overlooking the sea.
The great classic is the famous Greek salad (horiatiki), composed of tomatoes, cucumbers, peppers, olives, capers, onion and feta (the typical Greek cheese made from sheep's milk). Generally, they will bring already seasoned with olive oil and sprinkled with oregano.
[su_panel] *** A warning that applies to the salad, but also for the rest: the portions are always very abundant!
The Greeks have many dishes of different specialties brought, that everybody taste because there is enough for all. Therefore, if you are in two, one salad is enough for both and so on.
Another thing to know is that if you order more dishes, they will bring them all together without distinction between "first" and "second", unless you do not specify the desired sequence. [/su_panel]

Other delicious typical appetizers you can order are the Tzatziki, the Taramosalada, the Melitzanosalata and Fava. They are all creams: the first is based on yogurt, cucumbers often very garlicky, the second is made from fish eggs, the third is of the eggplant and the last with a sort of legume that are called broad beans here, but they are different from ours.
I'm also crazy for the dolmades, rice rolls in vine leaves.
The mixed salad (lettuce etc) as we know it is only found in the restaurants of the city or in those more touristic.
If you want fresh vegetables, in the summer you will have to settle for the more, on tomatoes or cucumbers. Easier to find vegetables and greens boiled or sauteed, such as zucchini, beets and potatoes.
Under the generic name of Horta they will offer different kinds of herbs too, that in some cases resemble the wild asparagus or beets, seasoned with olive oil and lemon.
Another very common vegetable here is the okra (or bamies), a green pod shaped like a chilli: in Italy it is known as the "Okra" and is cultivated mainly in Sicily.
The exquisite Yemista (ghemistà) ie tomatoes or peppers stuffed with rice and meat, and also the Imam, a mixture of eggplant fried and then stewed with tomatoes, onions, garlic, herbs and spices: its curious name, imam bayildi, means "Imam fainted" because of the aroma and goodness of this dish.
The briam instead is a kind of very tasty ratatouille .
To dispel the myth that on the islands you will always and in any case eat fresh fish. Forget it, especially if you are there in high season on one of the most popular vacation destination island like Mykonos, Santorini or the like.
[su_pullquote align="right"]To dispel the myth that on the islands you will always and in any case eat fresh fish![/su_pullquote] First of all, because the local fishing is certainly not enough to meet the huge demand of tourists and then because, with few exceptions, the inhabitants of many islands often engage in breeding rather than fishing. You can find excellent fresh fish in certain islands of the North Aegean, like Limnos as such. However, the fish is paid by its weight and often you will be invited into the kitchen to choose it. When the fish is frozen, they should state it on the menu, but in any case it is better to make sure.
In summer, you will frequently find the okthapòdi (octopus), kalamarakia (squids) labarbounia (red mullet) or the gopes (similar to sardines). Rare and expensive the garìdhes (shrimps) and astakòs (lobster). If you are proposed a fish soup, do not miss it, it is hard to find!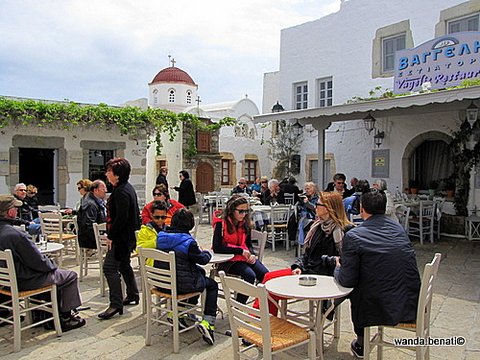 Another special feature is the saganaki: originally, it is none other than cheese floured and fried, tasty but hard to digest. In fact, there is also the saganaki of mussels or of shrimps, or shellfish cooked with the use of local cheese.
Many are the dishes of meat such as chicken, lamb, pork, rabbit or beef cooked in different ways: grilled, baked, stewed or in the form of chops, cutlets, meatballs, kebabs, sausages, hamburgers etc.
But above all, drawing the crowds, the famous souvlaki, a skewer with morsels of chicken or pork, alternating with peppers and onions: freshly prepared, perfectly solves often the taking of the pick.
Remember that most of the dishes, both meat and fish, are served automatically with fries, rice and vegetables and so you do not even need to order the side dish too. If you just want the meat, specifically just ask.
I left for last the perhaps best known specialty, namely the moussaka, the famous timbale of eggplant, minced meat, potatoes and cheese. You can find it everywhere, but it is unlikely to be that made as tradition wants, as happens only in certain villages in the interior, on the most remote islands or in a private house. Get the picture?
It is difficult that on the menu you will find sweets or dessert: after a meal it is easier that they will offer you fruit, such as karpouzi (watermelon) or Peponi (melons), or a cup of Greek yogurt with dried fruit and honey.
To taste the local sweets, it is better to turn to a zaharoplasteia (bakery).
The most famous are baklava (walnuts and honey) and the pasteli (bars of sesame and honey) both perhaps too sweet for our taste.
Better perhaps a rizogalo, a pudding of rice and milk flavored with cinnamon.
What to drink
Once there was only the Retsina, a resinated white wine not always pleasant. Now there are several local wines, white, red and rosè of good quality, that you can also order by the glass.
The islands dedicated to viticulture are mainly Santorini, but also Samos, Lesbos, Kefalonia and Ikaria.
Also in other places, such as in Patmos, various initiatives are in place for the recovery of forgotten local grape varieties.
Greece also produces beer, like Fix or Mithos. There are other local beers, like the one of Vergina, but it's hard to find them out of their area of production. If at the end of the meal, the mineral water bottle is not finished, you can safely take it away with you: it's a long-established habit and is no one will be scandalized.
Greek Fast Food
When I do not feel like a full dinner, or when I get back late from a trip and I'm starving and I do not want to wait, I concede myself a delicious gyro-pita, the real fast food made in Greece.
It is a kind of flat bread (pita) that wraps a skewer of pork or chicken (gyros) along with fries, tomato slices and finely sliced onion rings: the whole, seasoned with a generous helping of tzatziki sauce, The mixture of flavors creates a wonderful and greedy harmony!
Accompanied by a cold beer, it is a memorable snack, with a minimum cost (4.5 euro) it can also replace a meal.
Of Gyro-pita you can find with ease, but not all are as equally good: do let your Greek friends or owner of your own room tell you where they go to eat them. In different locations it is also provided for delivery, so you can also taste it on your terrace.
How to choose the right place?

Once there was a clear distinction between the different types of places: the Estiatorio is equivalent to our restaurant, sometimes even luxurious, it is diffused especially in the big cities or in the most fashionable islands, and the tavern.
The tavern is a traditional and simple place, resembles our trattoria. In the psarotaverna is eaten only pesce. Though now these distinctions have become less clear-cut, and you can find very elegant taverns and free range Estiatorio restaurants.
Moreover, now it is fashionable to eat even at the ouzeris, where originally were served only ouzo.
Always on the most frequented islands and in the big cities, a myriad of pizzerias and fast food have sprouted out, which I usually avoid like the plague (and not only in Greece).
If you do not know anyone who can advise you, walk around and observe carefully customers seated at tables: if most of them are Greeks, whether local or not, it's usually a good sign.
Keep in mind though that the Greeks eat late compared to us: if you see people eating at 7 pm, it is probably the Nordics. So, for your culinary reconnaissance, keep that in mind.
In Greece, eating out is a social event, that often happens even ... in the street! It's normal in fact that tables and chairs are brushed by cars and motorcycles in transit but if for us can be annoying, for the Greeks is a way to keep in touch with those who pass by, friends and relatives.
As a general rule, be wary of the locals too "nice" and picturesque: with few exceptions, they are in fact the tourist traps, where the quality of the cuisine does not match the beauty of the environment and even the bill is often salty!
A typical example are the dozens of restaurants that are located in the Plaka area, the tourist district par excellence of the capital, they are the equivalent of those that are also found in our most popular tourist destinations, such as Piazza della Signoria in Florence and similar.
So, unless you're not with someone local, who knows better than you where to go, look for places in the areas of the less beaten by tourist coaches.
It is definitely not a novelty but it is worth the while to remember it!