I discovered a magical region of Italy. And I discovered it on two wheels.
Two birds with one stone as they say from where I come from, a new place and a new way of traveling never felt before that had me literally bewitched!
Six days available, a motorcycle (yellow Honda Hornet), an excellent traveling companion, an itinerary planned in detail, a beautiful region: Tuscany.
As splendid as little touristic (or in any way not as it deserves), perhaps because of the difficulty of moving by public transport, this July 2014 had led me to discover in full liberty the splendid Tuscan region, among the country-side, bales of hay, wine and excellent food, farm-houses on the hills, spas and healing waters.
Departure from Bologna at 12 on June 29 and return to Bologna on July 4.
And here is my travel itinerary, photos, road maps and final total costs. Discover one of the most beautiful and romantic places in the world and, if you can live in the freedom that only a motorcycle can give!
A new journey, a new means of transport. A travel experience very different from those made previously, one of those where it does not matter what you do and what you see, but rather, where the beauty is to let yourself slide beside panoramas and lands so very beautiful that will leave you speechless.
So, few words and more pictures.
Good Tuscany to all!
From Bologna to Fiesole
Departure from Bologna at 12 pm first destination: Fiesole.
Raticosa Pass and that's where you say "goodbye" to the province of Bologna and "hello" to that of Florence.
I fed myself surrounded by dozens of motorcyclists with a roll with Finocchiona and a Coke.
The bread without salt tells me that we're in Tuscany, as well as the accent of the bartender who still does not have the C proof of "CocaCola with the Short Straw" but we're close, we have certainly left the S sounds for Z of ' Emilia Romagna!
Raticosa Pass and Futa, the Apennines, and down to that corner from which you can see Florence that extends in the valley.
I wanted to camp and so that is how I booked, but one with a view.
Camping with a panoramic view of one of the most beautiful cities of Art of Italy.
We in Fiesole and Florence in front of us. Before, during and after a kind of flood and lightning that illuminate 11 pm up like day.
Kind of fun ... kind of ...
Where to stay in Fiesole
Camping Villaggio Panoramico Fiesole - Accommodation in a mobile home: € 50 per mobile home.

From Fiesole to San Gimignano - Chianti Valley
After a stormy night and having seen Florence from the hills of Fiesole illuminated by lightning, wake up call at 7 .
As a diligent apprentice in the art of fitting backpacks in the trunk, once the mission is accomplished ( that within the days have become progressively easier to do ) it's time to head towards San Gimignano .
140km to grind and go directly south!
Departure from Fiesole and journey towards: Greve in Chianti , Volpaia , Radda in Chianti , Castellina in Chianti , Poggibonsi , Castel Val d'Elsa , Monteriggioni , San Gimignano.
A splendid passage through the Valley of Chianti and its enchanting vineyards, cocktails and small culinary breaks for salami and a little wine, medieval villages of traditional flavors, empty streets with little, to nothing, traffic.
The joys of Tuscany , of healthy and genuine.
Where to stay in San Gimignano
Agriturismo Le Volpaie - Double room in apartment €50
From San Gimignano to Montalcino - Orcia Valley
Third day and the usual wake-up call: 7 am ready to reassemble the travel trunk. We leave the Chianti to reach another beautiful valley, that of Orcia and its vineyards where the excellent Brunello is produced.
Final destination: Montalcino.
Departure from San Gimignano, the splendid, impeccable village that, in the words of the owner of the farm, has something like the set of a film, it's being so immaculate and perfect, in addition to being known for its many towers.
A stop in Volterra and from here the yellow Hornet will take us up to Montalcino through colorful fields, not yet of sunflowers, vineyards and lands where everything seems to flow slowly in the delightful routine of small rural corners.
Suburbs are ever more beautiful. Agritourism farms for every taste and every budget, here perhaps my favorite farm (Colsereno), in the middle of nowhere and near a winery that as a method of growing and caring of the vineyards believes that Mozart's music can help, Tuscany continues to open up to us, showing us glimpses of landscapes peaceful and immaculate.
But before reaching the destination and having had breakfast we go through Chiusdino, Roccastrada Cinigiano, Casteldelpiano Montelaterone Montegiovi and Montenero.
Montalcino in front of us, but as philosophy centaura wants, instead of staying in the city, we continue for another 6 km, towards Buonconvento.
A road less than ideal for the bike but those pebbles and the dust lead us to the heart of beautiful and peaceful countryside.
Finally, we set our tired bums on wooden benches and enjoy in silence the gift the valley had decided to give us: a beautiful sunset.
Time to eat. A hop into Buonconvento for an excellent dinner in a local tavern and in an hour worthy of a tired Cinderella, at midnight, and with a full belly, straight to bed.
Where to stay in Montalcino
Agriturismo Casa Colsereno - € 50 per home for 2 people
**** A special note goes to Ristorante Da Mario in Buonconvento, a family-run inn with great food and lovely staff, an experience in a tavern that never harms. Total cost for two (appetizer, homemade pasta, a Florentine steak of one and a half kilo, house wine, Chianti, dessert): € 78
From Montalcino to Pitigliano - Maremma and city of Tufo
It's wonderful to wake up in the midst of nature and equally splendid to get going again on the bike when the city is still asleep.
We reach Bagno Vignoni and continue to Castiglione d'Orcia , Vivo d' Orcia , Pescina , Castel del Piano , Bagno San Salvatore , Piancastagnaio , Bagno Fiora .
But we wanted to exaggerate, a bit for the fun of it, a little bit because of ignorance, we touch the 1750 meters above sea level, reaching the top of Mount Amiata and then down again.
Cold/heat that alternates quickly, country and the mountain life at the same time. A delicate and revitalizing mix.
Down again where the sun beats and there you are ... just like magic in front of us appears in all its inexplicable beauty, Pitigliano, one of the splendid cities of Tufo, with the poetic and quiet Sorano and Sovana.
Where to stay in Pitigliano 
Pitigliano is the town I have decided to stay for the night, I love it and it's plenty of great options, my favorite are the following:
Agriturismo Cantinaccia di sopra - Beautiful place where to relax and enjoy the countryside of this area, outdoor swimming pool. Double rooms starting from €67.
La casa degli archi - The owner is sweet and welcoming. Nestled on a cliff with panoramic views of the surrounding countryside and Pitigliano this historic house renovated and equipped with stylish, stone arches offers one the best accommodations in town. Double room starting from €130.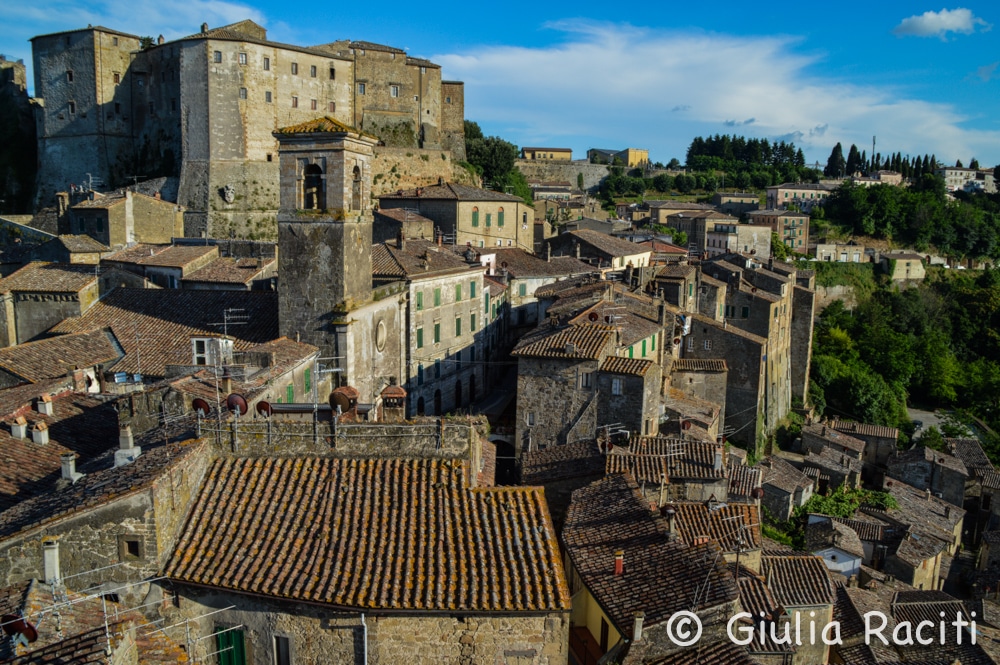 From Pitigliano to Bagni San Filippo - Val d'Orcia
Maremma calls to itself the sunflower fields. And so as soon as you leave the city an endless field of yellow flowers that face the sun becomes photo shooting set for a few minutes.
Tuscany is the land of spas and so far we have not even visited one (by choice because the motorcycle trip requires a change of methodology and also that of perspective, but I will write about this in the guide for beginners). Hence it is right to pay tribute to these healing waters and the chosen site is: Baths of San Filippo.
On the bike and off to Castellazzara, Radicofani, Sarteano, Montepulciano, Chianciano, Pienza, and for this last day of traveling in Tuscany we treat ourselves to some hours between the public pools of Bagni San Filippo and a nap in the sun.
Where to stay in Bagni San Filippo
Where to stay in Bagni San Filippo
Bagni San Filippo is so small that if you are with your own transportation it is worth staying a short distance away.
Beyfin Hotel: € 70 per double room.
From Bagni San Filippo to Bologna - THE END!
Time to go home and everything, alas, including the good things, draws to an end.
Bye bye Tuscany! And this farewell greeting we give ourselves with a final silent and lonely walk through the countryside, perhaps the most beautiful of all: those of Siena and surroundings.
Six days literally on the road, spine intact, belly full, eyes and senses satisfied.
A freedom trip, no obligations, other than those that we had set ourselves and that we have changed along the way, an extraordinary journey that only a motorcycle can give.
So much so that since June 29, 2014, I have a new passion!
Thanks Valerio for letting me discover it!
Surrounded by the Sienese countryside, a few hours of arrival at the final stage, a thought comes back with insistence ... " want to go round the world .... go and as you go around, you will find the best is your own home country."
Oh oh ... but how beautiful you are Bologna!
Where to stay in Bologna
Bologna is a University city and is plenty of good options, some good hotels where to stay I can recommend are the following:
Hotel il Guercino - Located in a historic building of a modern interior the hotel is not far from the central station and then a short walk from the center of Bologna. Fresh decor and great facilities, including a sauna and hot tub. Double room from € 76
Aemilia Hotel - The view from the roof is amazing, Bologna and its towers are just in from of you. Clean and spacious rooms,excellent price/quality ratio. Double room starting from €100.
Antica Residenza d'Azeglio hotel charme - Historical building and elegant rooms, perfect location if you want to enjoy some of Italian style. Double rooms starting from €150.
Total costs for two people
Total distance: 1375 Km
Gasoline: € 136
Hotels: € 346
Eating: € 264
Total for 2 people: €746
Total per person for a 6 days trip: €373
You don't know how to ride a bike?
No problem! You can follow the same itinerary self-driving a car. To rent a car at the best prices on the market click here.