Beautiful, wild and varied. Tanzania is the Country par excellence of the national parks where you can admire up close the notorious Big 5 (the 5 large savannah animals: lion, elephant, buffalo, rhinos and leopards, the most dangerous and feared animals which are the five most coveted trophies by hunters, the naming originated when the term safari stood for hunting) but it is also the country with the beautiful swhaili coast and breathtaking islands, Zainzibar maybe the best-known or the less famous, but no less attractive, Mafia Island.
Tanzania, however, for those who travel for long periods with a backpack, more than Zanzibar and safari means the true journey through Africa, a world and a way to travel so different, hard and delicious at the same time, whimsical and simple, smelly and spicy, wild and quiet, poor materially and humanly rich.
A trip within contrasts, to which we must get used and that in time we'll learn to appreciate, we'll grab their meaning and in the end they'll become the beauty and adventurous of the whole trip.
To travel in Africa we need to strip off our preconceptions but mostly we need to change the standards we were used to, even when you are veterans of the trips with small budgets and you believe to be very accommodating and very basic.
As a fact here you not have to believe it, you need to be so, no half measures, or you'll be back home in five days.
[su_note note_color="#d0d0d0″]
A trip to Africa is not cheap (it costs at least twice as much as the South East Asia at the same standards), even more expensive is the one in Tanzania if you do not want to give up Safari which plays an important role in the total cost (6 days safari cost as much as a trip of one month and a half), and perhaps the first thing to get used to, it is true here as well as in the rest of Africa, is how low standards are for the prices you pay.
[/su_note]
Having said that let's enter into the specifics of the country Tanzania (pronounced Tanzanìa).
Poverty of the diet
It's useless, I really tried to be able to find something super good, or enough to say that Tanzanian food is worth, but honestly this is the country where I ate the same 3 things for one month, and I don't hold much hope for the next to reserve great culinary surprises, and I was not pleased.
These three things are: rice and beans with an hint of vegetables, omelette with potatoes and meat skewers.
In truth I can also add chicken which instead of grilled they would cook in pots of oil, then some snacks along the street. Other than this everything else is a bore.
About fruit and fish, it depends. In some areas I found them in other it seemed like a challenge.
Generally in the southern areas I found plenty of ​​grilled corn, but then again, you have to get used to a cuisine with no variety.
Restaurants for strong stomachs
Just to stay on the issue of eating, once you leave the tourist tracks and the bigger cities forget the "clean" restaurant or European standards.
You can try all you want but you will not find any of this and if you are the kind of person who would say: "oh my, I'll get diarrhea" you will most likely live off bananas and bread in a bag because everything they'd serve would be cooked on the road and in some places the flies will be your constant companions during your meals.
I wish to point out that I have always been treated like a queen at these places and they are very happy to have you sitting at their table, we just get used to it.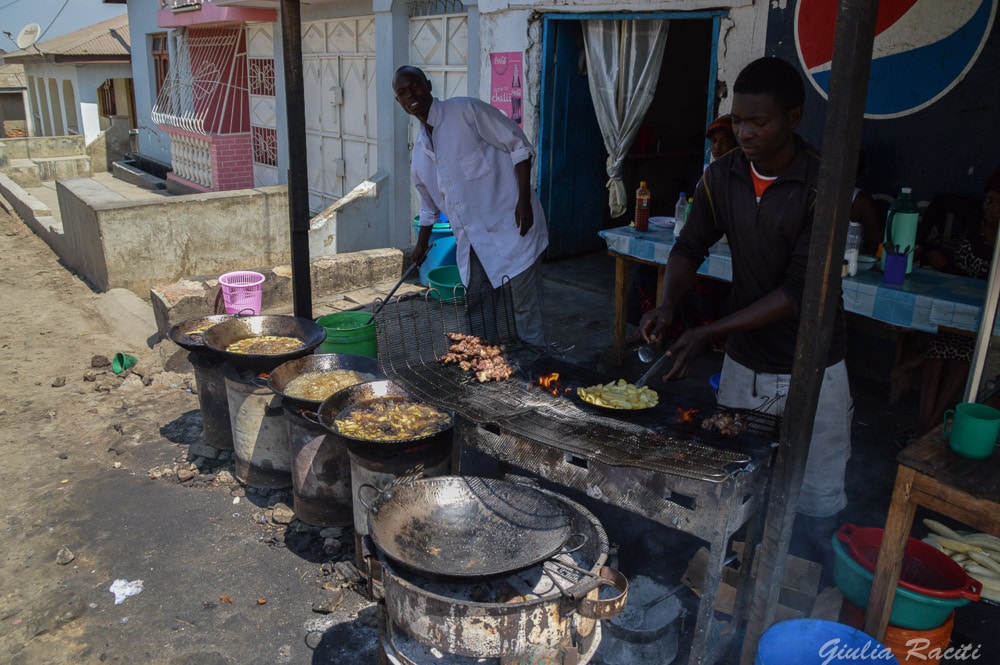 Departure by bus before dawn
I won't be saying that they leave on time, unless you travel on the main tourist routes that are quite busy, therefore they're punctual and also have fairly good buses, but from Dar Es Salaam onwards be prepared for scary and noisy buses but most of all really unpredictable schedules.
Usually they tell you to be at the station by 4.30am or 5.30am (this is luck), only to leave as soon as the bus is full.
To fill a bus in the African way translate into bursting, therefore not only all the seats would be taken but also standing places. For this indeed is valid the old saying, first come first served.
Make it a habit to wake up very early in the morning and wait for the bus in the dark not knowing what time it's going to leave.
Toilet Paper….this stranger!
In cheaper hotels they don't even know what it is but the worst thing is that not even in the shops is so easy to find, so it is advisable to stock up when you find it because whether you may get it in the next village we don't know!
Fear not however, you, daredevil backpacker, actually looking closer here they are better than you can think, in fact there won't be toilet paper but there are hand showers that at least allow you to clean up pretty well.
Cold water, I wish but I can't
Even hotels who claimed to have it, for some reason did not. So be calm and cold blooded and willy-nilly get cold water even when it's not this hot.
I admit that on occasions I washed like cats … just a little.
WiFi in hotels
Another utopia in Tanzania, not including Dar, Arusha and Zanzibar (which in truth is probably the area of Tanzania that you're going to visit… but I went further).
Hardly anyone has got WIFI, and those claiming that they got it, then for some reasons did not have it after all, a bit like hot water.
On the other hand however it is quite easy to get a SIM card with data connection that works virtually anywhere and for those like me who need to work with e-mails and have to check them rather frequently a modem that costs 20,000 shillings that works pretty well everywhere except in trafficking Newala – Songea ( South of Tanzania ), and allows me to do many things without spending a fortune but also using my computer, is worth having.
The hotels that offer WiFi would often charge you for it but to use it for a day it would be best not to upload photos and watch videos.
Time – European time VS Tanzanian Time
I did not know that in Tanzania, same as in Ethiopia, they had a different time from ours.
If a bus is scheduled at 6am, for us, most likely at the station if the operator does not speak English he will tell you that the bus is at 12.
If the bus is at 10 then he will tell you that it leaves at 6 and so on.
In principle, the bus always start very early morning, so get suspicious if the time foes much further than 7am or anyway ask "European or Shwahili?", they will understand that you are a bit confused, get confused themselves, but at least at the end you'll know for sure at what time you have to leave.
Endless stops but no breaks on the bus
I know it sounds like nonsense but the buses in Tanzania are strange, actually stranger than elsewhere.
I was used to the endless stops to pick up more and more people, but I had never experienced before that in 7 or 8 hours trip they wouldn't stop even for lunch, dinner or tea break.
It is true that food is sold by street vendors directly at the window of the bus and that food, alas, here is always the same, but forget to be able to stretch your clamped legs, even on the most uncomfortable buses, the goal is to reach your destination and considering that you travel at an average speed of 50km per hour, you'll understand that stopping to eat would make a long trip… very much longer.
Hostels and backpackers … maybe sometime later on
It is no secret that Africa is the last continent left on earth where the phenomenon of backpacking trips has not spread yet and therefore everything they did in Latin America, for example, does not happen here.
Hostels do NOT exist, there are no dormitories, except in very rare cases (but really rare) and you won't meet other backpackers and those traveling as you do you may count on the fingers of one hand.
I'm pretty sure that by now most of the world has been explored one end to the other by my "colleagues" backpackers and this is the last continent to discover that offers 100% adventure, we are increasing in number, it is a fact, but still I would advise you to carry with you books to read, as the time you are going to spend in the company of yourself will be plenty (I know I get boring but I repeat it all the same), if you stay away from the usual tourist circuits.
I am also sure that as I continue the journey I will come up with something else, but right now this is my experience up to date and yet all of this has not the slightest compromised this marvelous adventure in a country you should dedicate more than the mere two academic weeks.