This post will not be like all the others, I want it to be something that after reading, can help you organize a similar trip, but at the same time should make you relive my month's experience, of going around the north of Europe.
For a start I would like to begin to describe in a few short words what the Interrail/Eurail (for non-EU residents) is.
The INTERAIL/Eurail is a pass that gives open access to all EU rail networks or rather makes it possible for you to travel, without limits and no extra cost, on 95% of trains you will use to move from one country to another.
Sometimes you will be asked to pay a booking fee for trains a bit more important such as it happened to me for the Frecciargento or the Eurocity Monaco of Bavaria -Bologna (from 4 € to 10 €).
The cost of an InterRail ticket
There are many types of these Interail tickets, the costs will also change depending on the age and the categories are distinguished in: Under 25 years, Adults, Seniors (60 +), Families.
For more information on costs and options click here.
The main passes and their prices are as follows, the prices quoted are for those under 26 years.
5 days to 15 days €200 Pass flexi
7 days in 1 month €246 Pass flexi
10 days in 1 month €292 Pass flexi
15 days in 1 month €361 Pass flexi *** MY CHOICE
15 consecutive days €338
22 consecutive days €374
1 consecutive month €479
In one day you can even take more trains returning, however, in the day, so you do not pay per stretches. The day starts at 0:01 and ends at 23:59. So I could get on the train at 00:01 and I could travel by train for free until 23:59 of the same day, thereby taking advantage of a day's traveling.
Obviously if you travel at night and do not want to lose two days of travel, with flexi pass all this is possible, just you hop on a direct overnight train departing after 19:00 and arrive at your destination after 04:00 the following day.
During the journey, you can check all your trains with the Interail free app.
The official website to buy the interail ticket is: Interrail.Eu.


Plan before you leave or not?
In my opinion, you can live your interail in two ways:
Wandering about aimlessly where your imagination decides to direct you (method never used by me in my travels, but I think must be very fascinating)
Planning already from home step by step your moves by checking the trains, times and perhaps any eventual booking fee.
[su_icon_panel shadow="0px 1px 2px #eeeeee" icon="icon: bullseye"] I booked all the hostels through the app
Hotelscombined
, I recommend you to book a lot in advance reservations in the Scandinavian hostels, in view of the scarcity of cheap accommodations in these cities.
This website compares the prices of the leading online brokers so that you can then choose the site that offers the best cost.
[/su_icon_panel]
I always tried to travel early in the morning, for a maximum of 6-7 hours, also because in the vast majority of the cities, museums open after 10:00 and check-in in most hostels is possible check in only after 14:00, although nothing prevents you from arriving in the morning and leaving your luggage at the hostel to head off immediately to explore the city.
At the end of my trip, coming to conclusions, I have realized that I could have done without some short-sleeved Tshirt (I had like 6, too many in my opinion) and in their place I would have included a pair of shorts seeing that almost always the weather was beautiful although temperatures as we gradually went higher, tended to fall !! even touching 10° C (TAMPERE – FINLAND).
[su_divider top="no" divider_color="#e2e3e6″ size="1″]
MY INTERRAIL


An idea of the travel itinerary 
I want to tell you what at least was the route taken by me and although by reading the photo of the ticket might already give you an idea, I can only tell you that the choice of these cities is due to the fact that all the cities touched by me were great cities and I knew I would have definitely found what I was looking for.
Having in most cases almost 2 days at my disposal, I always tried to invest the entire afternoon of the first day trying to get my bearings, to understand a little how to see the entire city and its attractions in the shortest possible time, and then devote myself to an activity dear to me, photography.
Going round the length and breadth of the city exploring the most remote places, obviously not skipping those that could be the best attractions.
Stopping here to describe, however, each attraction town to town would be stupid and would make this post even longer than it already is, but I certainly can recommend you the best thing to do when you are in one of the cities I have visited myself.
[su_divider top="no" divider_color="#e2e3e6″ size="1″]
Munich
[wc_row][wc_column size="two-third" position="first"]
My Interrail began in Munich, I think everyone knows Munich as the European if not World capital of beer, and, well my dears they are not wrong at all.
Even though, culturally speaking, there is a lot to see there, the thing that attracted me most were the many beergarden rushed by the locals daily and the party atmosphere that reigns within these large beer gardens.
Well worth a visit in Munich the Residenzmuseum, the Viktualienmarkt and the English Garden, the latter suitable for picnics, in short, a sort of Hyde Park in London.
[/wc_column][wc_column size="one-third" position="last"] [su_panel]
Where to stay in Munich
Wombats City Hostel Munich
Cheap and cool design hostel, bed starting from €17
From Munich I then made a stop in Prague. If you want an advice, in Monaco arrive at the station some 20 minutes early, unless you want to spend your trip on foot, because it is not possible to book the train in advance (obviously I'm talking about totally free trains with the interrail pass that head towards Prague without having to change).
[su_divider top="no" divider_color="#e2e3e6″ size="1″]
Prague
Prague, city of a thousand faces, and which, by strange coincidences, offers an excellent out of the ordinary pizza.
Two places in Prague that you absolutely must not miss are the Vysehrad Garden, where you can admire one of the most beautiful views that Prague can offer (even if a place similar to this is the Letna beer garden where you can sip a beer while enjoying the sunset in the company of hundreds of people) and the Prague castle, the oldest symbol of the Czech state and its most important national historical monument.
[wc_row][wc_column size="two-third" position="first"]
And if you love sunsets, relaxation and fine companies, along the Vltava River (the river of Prague) in summer, several bars will open around the area of the Karlovo Namesti metro station, and, being Italian, the most interesting for me was the Boat Bar branded Aperol spritz! Absolutely not to be missed.
If you want to find out more about the history of Prague from the Old town square depart plenty of free tours, (especially between 11:00 and 14:00, normally last 2/3h) organized as in many other cities in collaboration with the office of tourism.  Prague free walking tour.
[/wc_column] [wc_column size="one-third" position="last"] [su_panel]
Where to stay in Prague
Equity Point Hostel
Central and design hostel, beds from €10
[su_divider top="no" divider_color="#e2e3e6″ size="1″]
Berlin
[wc_row][wc_column size="one-third" position="first"][su_panel]
Where to stay in Berlin
The Cat's Pajamas 
Cheap and desing hostel located in the cool area of Kreuzberg. Beds from  €16.
Obviously at the end of the tour a small tip is always well appreciated !! From Prague I then headed to Berlin, the train as usual does not require advance booking, especially if you travel early in the morning.
Berlin, is in some respects a too modern city, that, because of the massive bombings suffered during the Second World War, does not retain a minimum trace of its history. For years now though, it is a reference destination for many young people in search of the most bizarre modes and it certainly is the European if not world capital of techno music.
[/wc_column][/wc_row]
Here, being a fan of techno music I would have spent more than willingly three days, certainly well into the weekend to enjoy the most of the festive atmosphere that reigns in its Clubs. First and foremost the Berghain, but also not to forget the Club for viewing.
But this city is not only clubs, museums such as the Pergamon Museum and the Altes Museum absolutely not to be missed and not forgetting also the East Side Gallery; one of the few parts still standing of the Berlin Wall, which was painted with murals in 1989, by more than 100 artists as a sign of freedom. (Restored later in 2009). My advice to Go round Berlin is certainly to rent a bike for the whole day at the cost of 12 €.
READ – WHAT TO DO IN BERLIN IN 3 DAYS – TRAVEL ITINERARY 
READ – BERLIN UNDERGROUND, THE DARK SIDE OF BERLIN
READ – WHAT TO DO IN BERLIN FOR FREE 
READ – HOW TO PICK THE RIGHT TRAVEL CARD IN BERLIN
[su_divider top="no" divider_color="#e2e3e6″ size="1″]
Hamburg
[wc_row][wc_column size="one-third" position="first"][su_panel]
Where to stay in Hamburg
Generator Hostel 
10 minutes walking from the city center, this hostel is located in Friedrichshain. Beds from €18.
From Berlin I then made a stop in Hamburg, that is absolutely worth a visit. A port and financial city, characterized from the fascinating architecture of its buildings.
Venturing on foot all through the city, because of its small size, will not be a problem but for the laziers there is always the possibility to rent a bike, for the modest sum of €12.
The most fascinating building in Hamburg is certainly the Rathaus in Hamburg that now serves as the town hall (guided tours inside €3, duration 40′). The Speicherstadt area, definitely deserves a couple of hours, given the interesting architecture of its buildings.
[/wc_column][/wc_row]
Then if you're also feeling a little peckish, a few meters from the police museum, always in this neighborhood, you will find some pretty stalls, open during lunch hour which I think is the main eating place, for most of the people working in this area (lunch 3/7 €).
If you are fans of sport activities or simply for a nice picnic, Hamburg offers exceptional spots along the waters of Lake Aussenalster. But by far it offers the best of itself from the happy hour onwards, if you move towards Sternschanze you will find a host of places, where to eat anything and more or just enjoy a good draft beer in the company of hundreds of other young people like you, and then move later in the evening to the St. Pauli area, the internal of which is hidden the largest red light district in Europe.
[su_divider top="no" divider_color="#e2e3e6″ size="1″]
Copenaghen
[wc_row][wc_column size="two-third" position="first"]
From Hamburg I then went to Copenhagen. The train journey is among the most picturesque I've done, as it offers breathtaking panoramic views. The train ride, gave me the opportunity to search in the guide what to see and as soon as I touched Danish soil, I hurried to the hostel and quickly headed straight to Thorvaldsens museum which on that day was free.
So look hard for what to see, because very often you get to save some money with free entrance. Other very interesting museums are the Statens Museum for Kunst, the National Museum and the Ny Carlsberg Glyptotek that houses works by Cezanne, Van Gogh, Monet, Renoir and many others.
If then in the evening, you want to have a drink, the best areas are those of Norrebro and Vesterbro, even though I would recommend the Mckluud pub that remains on the
Istedgate, so to speak, is the long avenue that stays in front of the exit door of the train station on the west side; there you will certainly find the typical Danish atmosphere.
[/wc_column][wc_column size="one-third" position="last"]
[su_panel]
Where to stay in Copenhagen
Urban House Copenhagen
modern and relaxing hostel in the center of Copenhagen from where easily reach on foot or by bicycle the main points of interest. Dorm beds from € 22.
As a whole Copenhagen is a beautiful city, rich in culture and history and if you like particular things, Christiania is the place for you. Also known as Freetown of Christiania, it is a partially self-governed neighborhood in the city of Copenhagen, Denmark, which holds a semi-legal status as an independent community.

For street food fans, within walking distance of Christiania is the Papireon Market that has more than 30 stalls on the inside, which offer food from all over the world !!
This, perhaps was the first stop, where I felt well integrated within a group, obviously regarding this trip. To rouse myself of the Italian normal routine is quite complicated for me and at times takes some time.
In fact I want to thank Ignasi, Monica, Guillaume, Albert but above all Mohamed, the latter in my opinion a great street artist who works far and wide around Europe.
If you are traveling on a budget like I was doing (50€ a day) the only advice I can give you is to always cook for yourself and, above all to always look for a Lidl, it definitely will have the solution to all your problems when it comes to shopping cheap, in the Scandinavian countries.
READ – WHAT TO DO IN COPENHAGEN
[su_divider top="no" divider_color="#e2e3e6″ size="1″]
Gotemborg
I left Copenhagen reluctantly, because it was stupendou to head to Gotemborg. Small Swedish town on the way to Oslo. Do not expect who knows what from this quiet Swedish town, but the Kalmar Art Museum (Art Gallery) on the inside also exhibits paintings by Picasso and Van Gogh.
Certainly, what struck me most was the free entry to all museums of the city to the under 25 and the fact of finding an Italian animator, plus from Abruzzo, within my hostel in Gotemborg.
First time that in a hostel I happen to see an animator, but perhaps it is due to the fact that the city for young tourists has little to offer so a person who can create "feeling" among the guests, I think, is more than necessary.
[su_divider top="no" divider_color="#e2e3e6″ size="1″]
Oslo
[wc_row][wc_column size="two-third" position="first"]
Left Gotemborg, I launched on the discovery of Oslo. We start from the assumption that Oslo is believed to be one of the most expensive if not the most expensive city in Scandinavia.
Having said this, I would like to advise you if you have 2/3 days available and you really want to see all of Oslo you can buy the Oslo Pass at a cost of 620 NOK (valid x 72 hours, at approximately 70 €).
With these you will have free access to public transport and free access to more than 30 museums, but the benefits do not end here.
There are two types of these passes, the one mentioned by me is valid for 3 days, but there is also one for two or one day, that I do not recommend to do given all the attractions that Oslo has to offer.
[/wc_column][wc_column size="one-third" position="last"] [su_panel]
Where to stay in Oslo
Saga Postel Oslo
Modern and relaxing hostel in the center of Oslo within easy walking distance from Storting and Oslo City Hall. It is around the corner from Nationaltheateret. Dorm beds from € 35
Astrep Fearnley Museum
which inside houses a temporary and a permanent exhibition of modern art, the
Oslo opera house
,
Akershus Fortress
and the
National Museum
that preserves inside, the famous Munch's "the Scream" painting, but the stupendous collection of this beautiful museum does not end here.
Other wonderful museums can be found on the Bygdoy peninsula, accessible by boat that leaves in front of the City Hall square.
The National Museum and Museum of Modern Art are free but besides these, I suggest you visit the Vasa museum, the Nordisk Museum, the Photo Museum and the Royal Palace, which I think is in the most beautiful part of the town called Gamla Stan.


[su_divider top="no" divider_color="#e2e3e6″ size="1″]
Stockholm
[wc_row][wc_column size="one-third" position="first"] [su_panel]
Where to stay in Stockholm
City Backpackers hostel
This design property is ideally located in the heart of the Central Stockholm neighborhood. Dorm beds from € 22
I then left Oslo for Stockholm. To get there you have two options, that of going through Gotemborg again and without increase in cost, or go directly to Stockholm for a small cost of booking, but certainly will save you various hours of travel. Option I settled for myself.
Stockholm, other beautiful city to the level of that of Oslo, where I advice you to stay at least 2 or 3 days if you really want to live it with tranquillity. As in Oslo, here also, you will have the opportunity to be able to buy the Stockholm pass, which will give you free access to all the city transport and the most important museums.
Stoccolma altra città stupenda ai livelli di Oslo, in cui consiglio di stare almeno 2 o 3 giorni se volete viverla veramente con tranquillità. Come ad Oslo anche qui avrete occasione di poter acquistare lo Stockholm pass, che vi darà libero accesso ha tutti i trasporti della città e hai più importanti musei.
[/wc_column][/wc_row]
Il National Museum e Museo di arte moderna sono gratuiti ma oltre a questi vi consiglio di visitare il Vasa museum, il Nordisk Museum , il Photo Museum e il Palazzo Reale, che a mio avviso si trova nella zona più bella della città chiamata Gamla Stan.
[su_divider top="no" divider_color="#e2e3e6″ size="1″]
Tampere
After Stockholm, I decided to abandon the Swedish territory, to go on the discovery of the Finnish. The first stop in Finnish territory was Tampere which is located approximately 3/4 h north of Helsinki.
[wc_box color="primary" text_align="left"]
How to get to Tampere
From Stockholm there are many ferry companies that serve Finland and Estonia. I have decided to choose the Silja Line Line that has special discounts for those who use the interail (10 € for a Deck Place, obviously booked in advance online).
It will be anything but a short trip, on the contrary (12 h), also because the port of arrival in Finland is that of Turku, then from there you'll have to take the train that will take you to Tampere.
[/wc_box]
But let get back to Tampere. Like Gotemborg, this city does not offer much, but the Vapriikki Museum, which houses lots of exhibitions of various kinds, with inside also a small cafe and a small canteen and the Amurin museum, which will make you relive in full how life was like in a working-class neighborhood in the mid-nineteenth century, they surely deserve your attention.
Other popular attractions in Tampere are the Cathedral, the Finlayson Centre (or also artistic neighborhood where frequently are organized exhibitions of contemporary art, and not only of Finnish artists) and its two saunas, first of all the Rajaportin (the oldest public sauna of the area).
[su_divider top="no" divider_color="#e2e3e6″ size="1″]
Lapland
Here I even decided to change my itinerary, curious to explore or at least be able to set foot in the remote region of Lapland, to the north of Finland, from Tampere I decided to make a stop for a day in Rovaniemen.
This city is famous in every way for two phenomena, the famous midnight sun (visible for the entire month of June) and the Northern Lights (frequently seen with clear skies especially in winter, so starting from September).
Rovaniemen is also famous for its magnificent Arkitikum museum and science center and because, a few kilometers from the city, it is home to the world famous Santa Claus Village, destination coveted by children all over the world and beyond.
What is certain is that August is not the best time to visit Rovaniemen.
[su_divider top="no" divider_color="#e2e3e6″ size="1″]
Helsinki
From Rovaniemen, if you plan to go down to Helsinki, the best solution is to take the night train that leaves the city at 21:10 to arrive at 09:00 the following day in Helsinki. For a simple seat you do not need to book anything, but if you want to relax in a comfortable sleeping berth the entire night, you'll have to pay a small surcharge.
In Helsinki, most of the attractions are concentrated within 2 km from Central Station.
Here you will have the opportunity to see the National History Museum of Finland, the incredible Finnish Art Gallery, the beautiful Lutheran Cathedral and last but not least, since there are endless sites that I have not named, comes my favorite the Kiasma Museum, Finnish contemporary art museum that houses works and installations out of the ordinary.
[wc_row][wc_column size="one-third" position="first"] [su_panel]
Where to stay in Helsinki
Sweet Dream GuestHouse
10 minutes walk from Stockholm Central Station and Cityterminalen Central Bus Station. This design property is ideally located in the heart of the Central Stockholm neighborhood. Dorm beds from € 22
Another interesting place to visit is the fortress of Suomenlinna, very suitable for an out of town picnic or to enjoy the spectacular sunsets. Ferries to the island where the fortress is, depart regularly and until late at night from Kauppatori Market Square (300 meters south of the Lutheran cathedral).
The price of the ferry is included in the day pass for transport which costs 8€ per day. For more information on transport click here.
Helsinki was one of those stops that had stirred something inside me, here I had the pleasure to share ideas and thoughts with Laura and the Trami, two beautiful girls that have broadened my horizons of views giving me a great lesson in life.
Obviously, as a good Italian I returned the favor, cooking up a delicious dinner for these two beautiful girls.
[/wc_column][/wc_row]
From Helsinki other destination that deserves a day trip is the small town of Savonlinna (4 hours by train). This small village is famous for its beautiful castle, Olavinlinna castle and the fact that each year, it hosts the famous Opera Festival, which attracts people from all over the world.
[su_divider top="no" divider_color="#e2e3e6″ size="1″]
Tallinn
We then left behind Helsinki to the direction of Tallinn. As for Stockholm, arriving at the port of embarkation is really simple.
Helsinki-Tallinn is a popular route, so you will find many ships departing from the west pier, where the 9 or 6T trams that cross the city center (Ticket booked with one month in advance paid €19 with the interrail discount but if you buy it the same day you will almost certainly pay minimum 10 € extra) stop.
Tallinn, a wonderful city, with its medieval town I think is the most beautiful of al the Baltic cities. To find out what Tallinn had to offer, I relied on both the hostel, where the front desk lady explained to me word for word what was interesting to see here and on my dear Lonely Planet that recommended a walking tour really on the mark.
[wc_box color="inverse" text_align="left"]
The English version is instead upgraded to 2016, and you can buy it from this link:
Lonely Planet Estonia, Latvia & Lithuania
[/wc_box]
[wc_row][wc_column size="two-third" position="first"] Even though at 13:00, Tuesday to Saturday, start off free walking tours which I think roughly follow the same route. This is certainly a good way to understand something more of the city you are visiting and for meeting new people.
Absolutely, you should not forget to see the very famous artistic neighborhood of Tallinn (Telliskivi Creative City) where the afternoons pass by slowly, sipping a beer, eating some snacks and admiring the various installations and murals in the neighborhood.
A few kilometers outside the old city, specifically in the Kadriorg area you can find two interesting museums such as the Kumu and the Kadriorg Art Museum. Not to forget then the Estonian open-air museum that remains in the area of Haabersti.
[/wc_column][wc_column size="one-third" position="last"] [su_panel]
Where to stay in Tallin
Knight Hostel
At only ten minutes from the city center, this unique and historic hostel is located in the Kesklinn district, less than a ten minute walk from St Mary's Cathedral, from Eesti Ajaloomuuseum and House of the Brotherhood of Blackheads.
I did not mention, however, many other important museums of course no less, only because they were not of interest to me, but certainly, guys, Tallinn is a city that deserves at least 3 days given and considering that it also offers a discreet night life, especially in the hostels, where the youngsters are ready to party every hour.
[su_icon_panel shadow="0px 1px 2px #eeeeee" icon="icon: bullseye"] I would also like to advise all those who have in mind to visit the Baltic republics, that the interrail pass is not valid in these countries, but don't worry, the Lux express offer super efficient and super cheap bus rides, for all the major localities of the Baltic republics and beyond. [/su_icon_panel]
[su_divider top="no" divider_color="#e2e3e6″ size="1″]
Riga
[wc_row][wc_column size="two-third" position="first"] From Tallinn I then went en route to Riga. Certainly we cannot compare it with Tallinn and with its beautiful medieval village, but Riga has some attractions too, that do deserve your attention like the Blackheads House, St. Peter Church, the Arsenal exhibition hall, the Riga Cathedral, and finally the Art Museum Riga, in my view amazing.
There are many other attractions around the city, I have only named the most famous. One thing I was really pleased about was the free tour organized by my hostel, Seagulls Garret Hostel.
[/wc_column][wc_column size="one-third" position="last"] [su_panel]
Where to stay in Riga
Seagulls Garret Hostel.
Modern and relaxing hostel in the center of Riga from which to reach the Freedom Monument and Vecriga walk easily. Dorms from € 7.
The Guide was a charming Latvian girl, who claimed to be doing it only as a hobby since she already had a good job. She was thorough in everything and this allowed me to understand a little more about the history of Riga.
[su_divider top="no" divider_color="#e2e3e6″ size="1″]
Vilnius
[wc_row][wc_column size="two-third" position="first"]
As last city of the Baltic republics my choice fell on Vilnius, capital of the largest of the three Baltic republics, thence Lithuania. Described in a few words the old town is nice and full of history, but as soon as you have a peep into the suburbs, you will see a lot of the Soviet influence on anything. Just as Riga this city is easily visited in one day.
So my advice, if you have in mind to do Riga – Vilnius like me, is to take the first bus available in the morning to arrive around 10:00 am (normal opening hours of the museums) in the city and to have the entire day to roam about far and wide.
A nice idea is to join the free tour organized by the Vilnius information office that starts from the central square of Vilnius.
For more information click here.
[/wc_column][wc_column size="one-third" position="last"] [su_panel]
Where to stay in Vilnius
Jamaica Hostel
Hostel in the center of Vilnius is only four steps from Vilnius University Institute of International Relations and Political Science and Vilna Ghetto. Dorms from € 8.
The only thing you will not see on the free tour will be the whole area around the cathedral that you can safely visit by yourselves. Most of all, I recommend you to enjoy the sunset going up to Gediminas Castle.
The most particular attraction in Vilnius is the Republic of Uzupis, a sort of Christiania in Copenhagen, even though in this lies a community of artists, so it is also seen as the artistic district of Vilnius. I leave you to only imagine that they have their own constitution and even their own army.
[su_divider top="no" divider_color="#e2e3e6″ size="1″]
Warsaw
[wc_row][wc_column size="two-third" position="first"]
Penultimate stop of my trip was Warsaw.
As a stop I admit that it was a bit of a flop, given that I came on Monday, when the vast majority of museums are closed and the day after appeared also to be a national holiday.
Thus you can imagine that I found everything perpetually closed. But the next day of my arrival, although the vast majority of the services and the attractions were closed, I did not lose heart and, armed with cameras I launched out into adventure.
Place that you absolutely must visit is certainly part of the old city, its architecture made me lose my mind, though, however, the Lazienki Park is not far behind, if you want to relax in the shade of a tree and escape the hectic city life, this is the place for you. Although I did not have the pleasure of visiting the Warsaw museums I feel to recommend the Chopin Museum, the National Museum and the Royal Castle.
[/wc_column][wc_column size="one-third" position="last"] [su_panel]
Where to stay in Warsas
Hostel Lwowska 11
Just a ten minute walk from the city center, this hostel is located in the Sródmiescie district features communal kitchen, tour desk and reception open around the clock. This hostel is ideally located in the city center. Dorms from €25.
In the Lazienki Park area however you will find other museums along with a beautiful botanical garden. Obviously Warsaw offers much more, but do not worry, at any hostel you make arrangements with, they will advise certainly the best attractions of the place without any problems. Last leg of my trip was Cologne in Germany.
[su_divider top="no" divider_color="#e2e3e6″ size="1″]
Cologne
[wc_row][wc_column size="one-third" position="first"]
[su_panel]
Where to stay in Cologne
The hostel is located in the district of the city, famous for its tourist attractions and shopping. This property is ideally positioned in the heart of the Downtown district. Beds from € 25.
This was not a stop that I had put in account, but it is a step that I wanted to do for a special person that I met during my trip, with her I think I've spent the best days of this adventure in Europe and visiting her in her house I think was the least I could do. Colonia is a beautiful city but that has suffered a lot from the bombings of World War II. The main attraction is certainly its majestic cathedral, which is still standing despite the massive bombings.
Just in the vicinity of the cathedral, you can find the excellent Ludwig art museum. The old town is really pretty, even though what impressed me most was the railway bridge from which virtually hang millions of love padlocks. A sort of the Italian Milvio bridge.
[/wc_column][/wc_row]
My journey ends here dear friends, I hope what I have written was to your liking and I hope that in the future it might turn out useful for you to organize a trip like mine.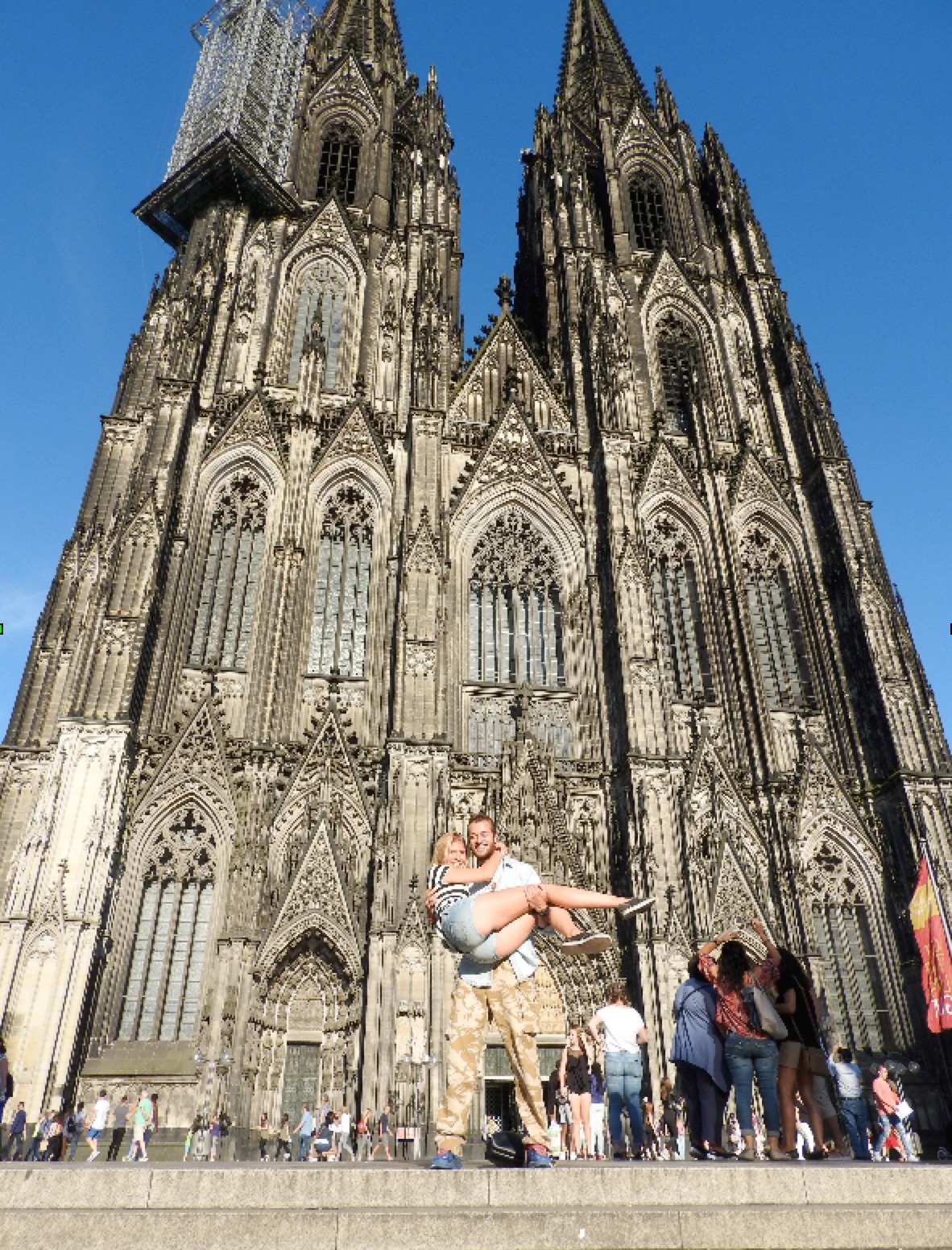 [su_divider top="no" divider_color="#e2e3e6″ size="1″]
Conclusions
This trip has been an enlightening experience, while writing this brief summary of my experience I even had tears in my eyes. Of you friends, I cherish a wonderful memory, with some of you I exchanged only a few words, with others I have spent entire days but at the end of it all, it does not matter how much time you spend with someone, it matters what you say while you are together.
I certainly discovered the importance of being humble with myself and with others, the importance of always having to share what you have, the importance that life's problems are quite different …. many of us have wonderful families, a car, a job, a girlfriend and think we have a lot of problems …. My dears you are wrong big time, problems are the wars, the sick, the famine; things that on television are filtered and refiltered, showing you only what they want you to see.
I will not dwell too much because it would be boring, but I want to conclude by thanking again all those boys and girls whom I met along my journey and who with me have tried to share their ideas and thoughts. A heartfelt thanks goes to a very special and unique girl who made this trip unforgettable.