From the travel diary in Nicaragua (April 2011)
I love Nicaragua! I could not say it in a better and simpler way. I find it a happy compromise between Costa Rica and Guatemala, a small strip of land of small dimensions where natural beauty of the most varied are concentrated.
Pronouncing the name, Ni-ca-ra-gua, immediately brings to my mind images of mangoes, don't really know why.
I do not know if I associate this country with the sweet fruit to the similarity that I find with Maracuya, or maybe because my trip to Nicaragua began right there, in front of stalls full of ripe and orange-coloured mangoes, among people waiting for the ferry, rather bored and sleepy from the heat, a volcano in the middle of a lake, a monkey and a particular travel companion.
It was hot in San Jorge, I had been waiting for the ferry to Ometepe for an hour already. I was with that character of Michael, the American with the eyes of a serial killer, and who spoke at the speed of a tortoise, but quite nice, an eclectic moment.
We met in Costa Rica, Santa Teresa to be exact, where everyone surfed except the two of us, and we continued traveling for a while together, sharing the harshness of moving in solitude to other destinations in the light of the terrible heat that inflicted us to days at the limit of respiration.
A few days from taking our leave of the queen of Central American surfing (Santa Teresa), we crossed the border and arrived there, on the island from where, shortly, we would have parted after 3 weeks of traveling together: Ometepe.
We ate at the restaurant of the port , bought two pairs of glasses from a street vendor and waited impatiently. In San Juan del Sur we were told that that island was an enchanted place.
Lake Nicaragua looks like a sea, there are waves , a guy surfs . A beautiful and quietly imposing volcano rises up in the heart of the lake , clouds hover above the peaks , it is an energetic place , you can feel it even before you get there.
No one speaks , it's too hot . Only a monkey on a tree screeches , jumping on benches of mangoes that locals sell to tourists to bring home those dollars daily.
I bought the mangoes , just in time to enjoy them on the ferry in the direction I did not really understand where!
A tree house and a jungle party at the base of the volcano tonight . The clothes of leaves and flowers are ready for everyone. I stayed in to read and Michael dressed like a forest elf with a wreath on his head and a short tunic with a belt of banana leaves baid me goodbye.
Tomorrow I will not see him again , I am going away . And I leave the elf at the mercy of this mysterious island where it seems to me, he has found his place for a while .
NI-CA-RA-GUA.
The surf , the waves , the sea of the Caribbean , the Buena Onda of travelers, the mangoes and the lakes, the descent from the summit of a volcano sitting on a table all dressed up like a diver, colonial centers, the dirty and noisy markets , tons of avocados .
The monkeys.
Two weeks in Nicaragua




A suggested 2 weeks travel itinerary
I thought up the itinerary considering that arrivals and departures are from Managua.  For those arriving from Costa Rica the itinerary begins in San Juan del Sur, for those arriving from Honduras or El Salvador then it begins at Leon (in these cases you can safely avoid Managua) .
[su_panel shadow="0px 2px 10px #868686" text_align="center"]
Itinerary in brief
 
Day 1 - Arrival in Managua
Day 2/4 - Leon (Cerro Negro Volcano) and the Natural Reserve of the Juan Venado Islands
Day 5/7 - Granada - Las Isletas and canopy
Day 7/10 - Ometepe Island
Day 11/13 - Corn Islands
Day 14 - Managua
[/su_panel]
Day 1 - Arrival in Managua
I wish I could have something to say about this city but my recommendation is to stay there only this one day to rest from traveling and then to go away . Unfortunately, the capitals of Central America, except Panama City, are not cities worth mentioning, if not, unfortunately for the danger .
So from the airport, in a licensed taxi, head to the hotel or hostel, and take a rest for tomorrow's trip towards Leon!
Travel details in Managua
Transport from the airport and in the city
To reach the center of Managua from the airport costs $ 10/15 ( depending on whether there are 1/2 or 3 ).
Generally, taxis within the city cost between $ 1 and $ 4 at most. Please ensure that taxis are licensed.
The cost of buses, which are often overcrowded but still an experience, is $ 0.35 each way, you pay when you get on the bus. Be careful to eventual valuable belongings and take normal precautions and everything will go smoothly.
[su_panel shadow="0px 2px 10px #868686" text_align="center"]
Where to stay in Managua
The cost of living in Nicaragua is quite low , therefore, you can find good lodging options at excellent prices. 
[one_third]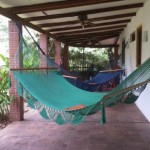 Hotel Maracuya Managaua

Dorm starting from €9.16 
A hostel already well-known in San Juan del Sur, it has opened a second branch in Managua. Controlled and secure , hammocks and common areas, tv, wifi, air conditioning and breakfast
[/one_third]
[one_third]

Hotel Sleep Easy In 
Double room starting from €39
Very clean and tidy hotel, quite spacious, typical forniture and very good breakfast, with eggs, bread, fruit, coffee and tea.
Located in the Bolonia area, a very quiet area and well connected to the center of Managua.
Book now
[/one_third]
[one_third_last]

Hotel Colibrì
Double room starting from €40
The hotel, in Mexican-style, is located 2.5 km from the city center and a 10-minute drive from Lake Managua. Free WiFi, on-site restaurant and breakfast included.
[/one_third_last]
[/su_panel]
[su_divider top="no" divider_color="#707ca1" size="1" margin="5"]
Day 2/4 - Leon
León is the land of volcanoes , of eternal heat, with interesting satellite town and a beautiful National Park .
Here lies one of the first colonial cities on the continent , the remains of which are in good condition thanks to the volcanic sand that buried the entire city after an eruption.
Leon can also pride itself of a reputation as the intellectual city of the country. not only because the University is here but for the numerous art galleries and museums. It's nice to walk around the city with its colorful colonial architecture but it becomes even more interesting if you explore the neighborhood.
Among the many things to do, the two main activities in Leon are sand boarding on Cerro Negro volcano (going down from the summit, that you have diligently climbed on foot, sitting on a board) or heading for the coast, Las Penitas, and to choose there whether to divert to Poneloya for surfing or to the Natural Reserve of the Islands Juan Venado . For more or less extreme spirits .
Sandboarding on the volcano
Cost per person including equipment : $28 (ask for confirmation in the hostel)
Who to rely on:Ask the hostel they will be able to organize the sand boarding for you
Leon is located in the midst of eight volcanoes , all on the side of the Cordillera de Los Maribios.
The most interesting is the Cerro Negro, young, small volcano with a splendid view, nice walk to get to the top, and for those who would then want to descend on a table, a fad of recent years, is the sand boarding. It is sliding, by sitting on a board, on a kind of grainy flour of lava stone.
The equipment is provided by the organizers of the tour , it is not dangerous if proper precautions are taken.
Easiest showing you what is going on there on the volcano!

Surf oor Juan Venado Islands National Park

Obviously this is not about the Caribbean sea but the ocean, therefore, waves.
The beaches here are numerous , some are equipped while others are not. Of all the beaches the most popular for surfing is Poneloya but if you divert to Las Penitas , not far from here is the natural reserve of Juan Venado Island.
Possibility to go kayaking or boat ride among the mangroves , exotic birds , mammals , crustaceans and other species, and if lucky, you may see crocodiles and incredible plasma sea turtle.
The boat tour of the islands of the National Park costs $50 per boat for 4 , $70 if you are 8 (to be shared). $12 if done in kayak and $ 10 extra if you want the guide ( I would advise you to) . Ask more information at your hotel .
[su_icon_panel shadow="0px 1px 2px #eeeeee" icon="icon: car"]
How to get to Leon
[wc_row][wc_column size="two-third" position="first"]
Managua - Leon
Buses to Leon leave from the bus station in Mercado Israel Lewites ( always ask confirmation at the hotel if it not changed with time ) .
In express bus, the route takes 1 and a quarter hour, costs $ 1.25. Departures are every 30 minutes from 5 am to 4.45 pm.
In ordinary bus $ 1 and takes 2 hours . Departure every 20 minutes
In Micro, costs $ 1, takes an hour and a quarter, and departs when full.
Leon - Las Penitas
Take the bus from the market Sutiava also known as El Mercandito. A bus leaves every hour. You must be flexible and you might have to wait sitting inside a hot bus for 15 minutes.
Transport cost : 12 cordoba by bus , 250 by taxi .
Journey time : 30-45 minutes by bus , 15 minutes by car
[/wc_column][wc_column size="one-third" position="last"]
[su_icon_panel shadow="0px 1px 2px #eeeeee" icon="icon: car"]HINT
The bus station in Leon is about 2 km from the center, take a taxi to go to the hotel ( 20 cordobas ), alternatively a bus but it is always full and you have to wait ( 4 cordobas )
[/su_icon_panel]
[/wc_column][/wc_row]
[/su_icon_panel]
[su_panel shadow="0px 2px 10px #868686" text_align="center"]
 Where to stay in Leon
[one_third]

Latina Hostal
Dorm starting from €5 
Common area with a patio, hammock, garden, breakfast included. Obviously it organizes tours to the volcano or other assets for more information.
[/one_third]
[one_third]

Hotel Flor de Sarta
Double room starting from €48
A nice hotel in the center of leon with courtyard garden. The rooms are spacious and clean, outdoor pool. Leon in particular is a very hot city, the pool in the hot weather is essential!
Book now
[/one_third]
[one_third_last]

Azul Hotel
Double room starting from€43
A beautiful and elegant hotel with restaurant and good food, comfortable and elegant rooms and outdoor pool.
[/one_third_last]
[/su_panel]
Day 5/7 - Granada
Granada is maybe the most beautiful city in Nicaragua, not only for the center and its chaotic market full of avocados and mangoes but also for the surrounding territory: a lake that looks like a sea with a small group of islands, the volcanoes, the beaches, the handicraft centers.
There are plenty of activities to do here and so you just have to choose, therefore if the first day is dedicated to the city, its churches, the walk, the market etc, on the second, one can go on a boat tour to Las Isletas, a small lagoon archipelago (cost $ 15) , and on the third one can decide whether to go to Mapache by bike, take a horseback ride or do the canopy on the Mombacho volcano, or even go to Masaya and visit the handicraft centers in the area.
For all these tours the hostel or hotel will point out to you the operators with whom they work.
[su_icon_panel shadow="0px 1px 2px #eeeeee" icon="icon: car"]
How to get to Granada fro Leon
Hostels organize minivan for a cost of about $ 12. Alternatively, you can take the "chicken buses ".
Take a first bus to Managua.
Get off at the station UCA (Universidad Centroamericana) and here take the connection for Granada.
You will hear shouts of  "GRANADA , GRANADA!" . Well, that's it, take it. Cost about $ 3 in total and about 3 hours of travel.
[/su_icon_panel]
[su_panel shadow="0px 2px 10px #868686" text_align="center"]
Where to stay in Granada

 
[one_third]

OASIS hostel
Dorms starting from €7, Single room €10 
I have stayed here and I have elected it as perhaps the best and most entertaining I've been in in the whole of Central America. I hope it is still as I remember it, if it is, enjoy yourselves!
[/one_third]
[one_third]

Casa San Francisco 
Double room starting from €48
To stay on the medium range this is a good solution. Pool, breakfast inclusive, air conditioning, wifi. Located right in the center of Granada.
[/one_third]
[one_third_last]

Miss Margrits
Double room starting from €60
A refined hotel in a colonial house about 10 minutes walk from the center of Granada. A touch of elegance in the most beautiful colonial cities of Nicaragua.
[/one_third_last]
[/su_panel]
Day 8/9 - Ometepe Island
Isla Ometepe is the largest lake island in the world and is located in the lake Cocibolca (or Lake Nicaragua) .
The island, consisting of two big active volcanoes over 1600 meters altitude, the Madera and the Conception, covers an area of about 270 square kilometers and the 35,000 inhabitants are dedicated to agriculture in particular that of the plane tree. who are dedicated mainly to agriculture in particular plane tree.
It is said that this island is magical and enchanted, maybe it really is, perhaps the silence to which we are not used to anymore, here becomes magical.
Few cars, very few roads, huts in wild gardens and built on top of trees, jam and homemade bread.
Free bunches of bananas for everyone at all hours. Electricity for need and shower in the garden and then stop. The generator is turned off and the pitch darkness closes in. And the hammock in the balcony of the tree house continues to rock .
Where to stay in Ometepe
In 2011 of hostels and places to stay at Ometepe online if you tried he was not found anything in these years also remote Ometepe you are putting up with the times and although the lodging options are less and less different than the rest of Nicaragua today you can reserve online.
For hostels click here for hotels click here.
[su_icon_panel shadow="0px 1px 2px #eeeeee" icon="icon: car"]
How to get to Ometepe
The island of Ometepe can be reached with 4 hours of navigation, starting from Granada. Or it's possible to reach the port of San Jorge ( 5 km from Rivas ) and then take the boat or ferry (1 hour navigation ).
The boat from Granada in first class costs $ 9
The boat from San Jorge costs $ 2
For more information click here.
[/su_icon_panel]
[su_divider top="no" divider_color="#707ca1" size="1" margin="5"]
Day 10/13 - Corn Islands
The Corn Islands are distinguished in the Small and the Large respectively 1.5 sq km and 6 square kilometers and are located in the Caribbean sea.
Turquoise waters, white beaches, coral reefs, fishing and days in boat.
I love the Caribbean and its waters, warm and transparent. There is not much space for words in front of a deserted beach and inviting waters. It 's just a place of relaxation, a well-deserved award. And therefore not to be commented further, if not to say that it's worth it. A good and worth option to the San Blas Islands in Panama. 
Here the population is mainly Creole and the language is English.
[su_icon_panel shadow="0px 1px 2px #eeeeee" icon="icon: car"]
How to get to Corn Islands
Flight
Departure daily from Managua 3 to 4 flights on the Big Corn Island.
The airline company is the Atlantic Airlines and the return flight costs $ 168.
These flights generally stop at Bluefield from which the flight to the islands ( in the case you are already there ) costs $ 60 one way. The flight lasts an hour.
Bus
From the bus station in Managua ( Mayorero bus station ) take the direct bus to El Rama, from there take a boat to Bluefield. Bluefield take a second  speedboat to the Big Corn Island (cost about € 6.35).
The departure in this case should be at 6 am, boat trip time about an hour a little more if the sea is rough, remember to take a pill against seasickness, prevention is better than cure .
Journey time about 6 hours.
[/su_icon_panel]
[su_panel shadow="0px 2px 10px #868686" text_align="center"]
Where to stay in the Corn Islands
Tourism to the Corn Islands is beginning to grow in recent years, the facilities are mostly basic, but acceptable for those who want to experience the adventure and not looking for luxury.
Mimundo Corn Island Hostel - BIG CORN 
Dorms starting from €9 - Double room starting from €27 
This structure is mainly a hostel for backpackers, charming seaside location, basic facilities but clean guesthouse run by lovely people. Ideal for those who want to enjoy the island without spending a fortune.
[/one_third]
[one_third]

Bellavista - BIG CORN 
Double room starting from €35 
Establishment, managed by the Italian, spacious and comfortable rooms a short distance from a beautiful beach. Fair price and great balance price/quality
[/one_third]
[one_third_last]

Las Palmeras - BIG CORN
Double room starting from €49
Spacious and comfortable rooms and an enviable location on the sea and not far from the harbor and restaurants and bars. An oasis of peace surrounded by coconut trees and banana.
[/one_third_last]
[/su_panel]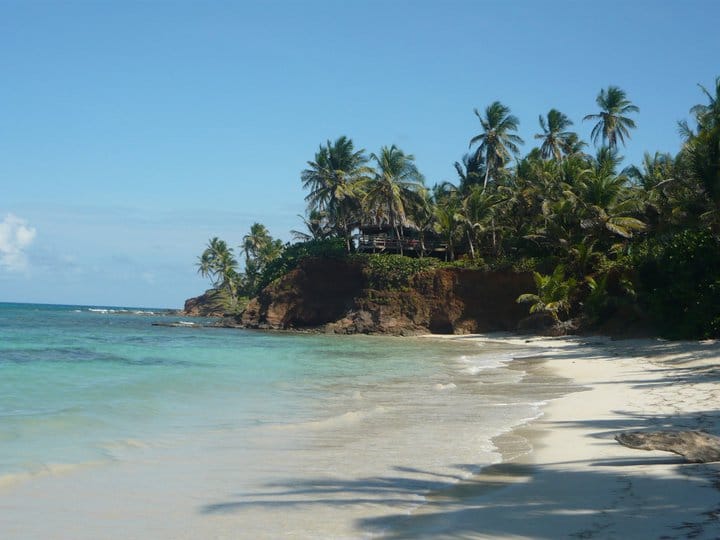 Day 14 - Managua
Back in Managua in accordance with time of flight. And end of the trip !
Next country ... Guatemala?
[su_divider top="no" divider_color="#707ca1" size="1" margin="5"]
How to get to Nicaragua
Flights to Nicaragua from Europe cost between €700 and €1.000 € roundtrip.
Before buying the first flight make a search online to find out what it costs on average among the various reference sites.
For an overview look at the comparison of prices Skyscanner.
For those arriving from El Salvador or Costa Rica border crossings are easy and feasible by public transport or by shuttles organized by the hostels that lead up to a border, go through passport control and then in the new country take the next bus.
Whoever comes from El Salvador will definitely go directly to Leon, whoever arrives from Costa Rica to San Juan de Sur.
[su_divider top="no" divider_color="#707ca1" size="1" margin="5"]
Getting around in Nicaragua
The network of buses and minivans is well equipped so it is easy to move around by public transport, as well as economical. The average cost for a one hour ride is $ 1.
If you are a group and you prefer to hire a car, I have made up a rough calculation on Rentalcars for two weeks rental and I have seen that the total is around € 690, which divided in 14 days and 4 persons is € 12.50 per day per person.
To reach the Corn Islands if you have only two weeks at your disposal, then the only solution is to fly. A return flight from Managua costs about $ 170. This is the site of the only company covering this route : La costena.
It is not well in sight, but at the top on the left is the wording " book a flight" , click there and look for your flight. Generally, the rates are $ 82 per way .
[su_divider top="no" divider_color="#707ca1" size="1" margin="5"]
Useful information for travel in Nicaragua
Daily budget - about $ 20 a day including hostel (backpacker trip) - A bit more if you fly to the Corn Islands
Hostel - 150 cordobas a day (about € 6) in dorm
Spoken languages - Spanish and English
Exchange rate - € 1 = 32.35 cordobas
Time Zone - -7/8 hours in respect to Europe
Documents and visas to go to Nicaragua
Europen citizen, only need a passport with at least 6 months validity is needed, visa is not required.
The maximum stay is 3 months, at that point, if you want to stay longer you have to cross the border with Costa Rica, Honduras and El Salvador, and then return. At the border, when you leave the country, you will have to pay $ 2 (in cordobas or US dollars).
[su_icon_panel shadow="0px 1px 2px #eeeeee" icon="icon: dollar"]
Important: The currency of Nicaragua has no value outside the country so if you have some money left change them before crossing the border, otherwise you will be left with just a nice souvenir. Money can easily be changed with one of the many people who ask as you stand in line for the stamping of passports. The change in general is good  [/su_icon_panel]
[su_divider top="no" divider_color="#707ca1" size="1" margin="5"]
Guides about Nicaragua
[su_panel]
The trip to Nicaragua was made in 2011, if you are an expert, you have lived or traveled there and you think that in recent years, something has changed compared to 2011 leaves a comment and tell me about your trip and how this country has changed in the last few years!
[/su_panel]