Mafia Islands, I believe that there is not one Italian who on hearing its name would not smile, so imagine when I, Sicilian through and through, decided to go to this place whose name is usually associated with Sicily, only to realize that the locals had no idea of what I was talking about.
Maf-Fia in fact is a word made up of two Arab words meaning Sea that comes within and of course it has nothing to do with the Mafia that we all know about.
A positive meaning to a word that in 99% of the world has a negative connotation.
I felt good!
Mafia represents the alternative to Zanzibar although it is not exactly the same thing. It is one of the islands of Tanzania together with Pemba, that tourism is starting to discover and that with the better known Zanzibar perhaps shares the sea and the wonderful beaches, so much so as to quickly become one of the most interesting attractions of the country.
The only way to get there, for those who do not want to fly same as me, is an adventure and in this post I tell how to reach it starting from Dar Es Salaam.
But once there, whether your reached it by air or by land/sea, Mafia shows itself in all its charm of an island still unexplored, which knows no mass tourism but offers swhaili villages and a tropical air in a quiet corner where not much happens but what happens is worth living.
A good alternative for those who find the island of Zanzibar ordinary and wish to go beyond the usual travel routes that characterize this country, daring a little more.
Therefore if the idea you have in mind is that of a quiet island where you may enjoy diving, snorkeling, swimming with the whale shark, spend some time in contact with Tanzanian whose interest is not your money yet but your presence, see hippos and do bird-watching, then this might be the right island for you.
The island is in fact particularly quiet, there are a couple of bars mainly attended by locals and nothing.
Worth pointing out that to those who mainly aim to a beach holiday, perhaps Zanzibar offers better and more accessible beaches but here diving is the best and numerous spots are just for experienced scuba divers.
Snorkeling is also a reason to consider this island.
[su_note note_color="#b9c7eb"]
*** Most of the accommodation is concentrated in the area of Utende withing the Marine Park, to stay here you pay $ 20 per person per day.
It is not a cheap place to stay because the hotels are limited. To avoid paying the fee of the marine park you can choose to stay in the area of Kilindoni but it is also true that the beautiful sea and all the activities are at Utende and whether you sleep there or not you still are required to pay the tax.[/su_note]
What to do in Mafia Island
If this island is so quiet and peaceful, what can you do in the days of permanence?
Swimming with whale sharks
If you travel to Mafia between November and April, perhaps the most spectacular of all activities and a great attraction is swimming with whale sharks. These creatures that are huge but gentle visit the waters west of the Mafia every year.
The locals call the whale shark 'Papa Shilingi' , papa means shark and shilingi is coins - because the white spots on the body of these huge fish remind of doubloons.
Whale sharks can also measure 12 meters and they live about 60 years, it is considered the largest fish in the world and to swim together with them is a unique experience.
Period for this activity: from November to April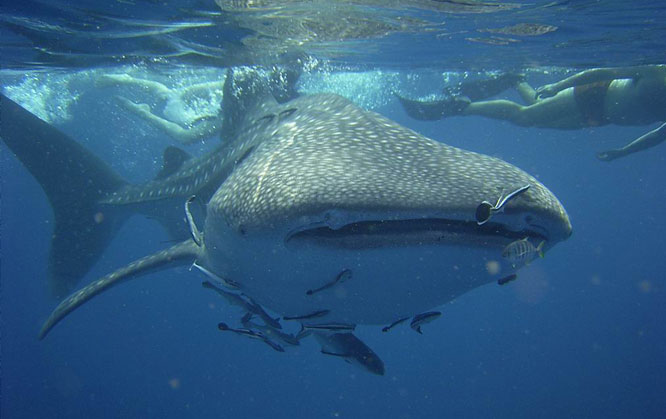 Diving
Diving in the waters of Mafia is impressive and this island can considered without the shadow of doubt as one of the best places in the world to dive.
Chole Bay is a diving spot secure and diversified, ideal for beginners, as diving rarely exceed 30 meters dept.
Experienced divers would take off right outside the bay but it is required experience and caution as the tide is quite strong.
Coral reefs are varied and diverse, expected to meet a lot of pelagic fishes, turtles (there are four varieties) and the colorful corals, and then the little inhabitants of the sea, like sea slugs and leaf fishes.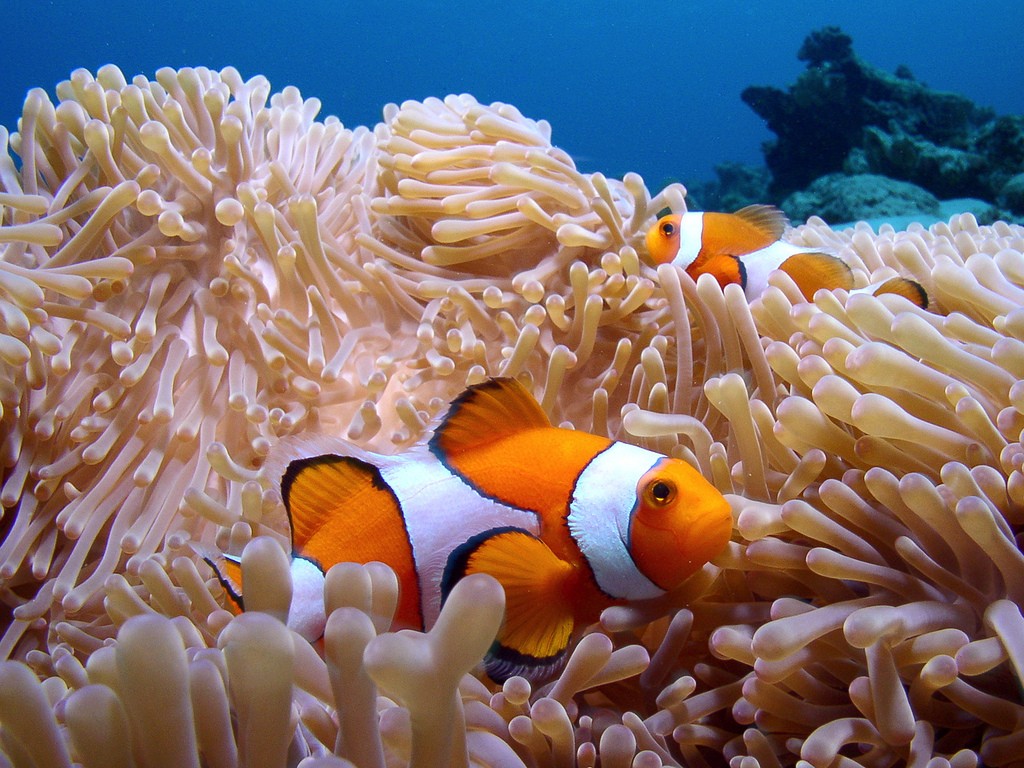 Boat trips, snorkeling and picnic on the beach
The sea around mafia is alive with beautiful white sandy beaches and clear water where you can snorkel and have picnics.
A kind of private sea safari in the protected park to discover the life of the wonderful seabed.
Between June and September you can see the baby turtles on the island Juani.
Fishing
This is another activity that fishing enthusiasts prefer to do here rather than elsewhere because the size of fish that bite here are HUGE, huge and I mean it.
After all, we live on an island where the fish is the primary source of livelihood here and lovers of this sport find bread for their teeth.
Visit the Chole Island
Off the island of Mafia just opposite Utende there is another island even more silent and remote: Chole.
This small island has a population of about 1,000 people who live by fishing and the cultivation of oranges, mangoes, bananas, papayas, sweet potatoes and coconut.
The island can be reached by wooden boats leaving from Utende, the trip takes about 15 minutes and everybody board together, locals, tourists and people working in the hotel on the island.
Foreigners pay 1000TSH ( Tanzanian shillings ), the local 400TSH.
Nothing to do but relax, lounging in the sun and organize boat trips.
Seeing hippos
We are in Tanzania in the country with a number of National Parks unique in the world, but here we are still on an island and if there's one thing that we could ever expect to see are the hippos which you can easily spot often towards sunset time.
How they got here nobody would know but since men have been living in the island they have always been there.
The local guides can organize walks of one day to go and see them.
The northern beaches and the lighthouse
On the northern tip of the island of Mafia there is the lighthouse, the path to reach it and return requires at least one day but the scenery you will meet is varied and different.
You stroll among baobab trees and wonderful and quiet beaches, those in the north are less accessible but also the most beautiful.
It is possible to organize a day to the north with picnic and once you get to the lighthouse it is also possible to go up and have a 360 degrees view of the island and the sea.ù
The core of the island: Kilindoni
The main town of the island as well as the arrival departure point to and from Mafia is Kilindoni, a city sleepier if compared to Stone Town of Zanzibar, but a rather pleasant place to stroll also getting an idea of the islanders.
You can stop at the market for a cool drink or to buy one kangas, a fabric that local women wear which is decorated with bright designs and text.
You can also go for a walk along the coast, seeing where the fish are dried. It is not as picturesque as the rest of the island and the nearby beaches are not great, but it's an interesting place to spend a few hours.
How to reach Mafia Island
To get to Mafia, you can fly with Coastal Aviation from Zanzibar ( $ 160 full price ) or Dar es Salaam ( $ 120) one-way, there are usually a couple of flights a day.
The alternative, for those who have time and who are ready to face an intense and hard journey, is to get from Dar Es Salaam to Nyamisati and the next day take the boat to Mafia. It's not as smooth as you can image, for more information click here.
[su_panel]
Where to stay in Mafia Island

In Mafia the possibilities for accommodation are limited.
You can stay within the marine park (paying $20 a day for marine park tax) or on the island of Chole or stay in Kilondoni, but from here you need to move to get to any beach where to swim.
You find a selection of accommodations below in ascending order of price.
Ibizza Inn (Kilindoni) – Starting from 30000 schillings. Modern rooms with a fan, air conditioning and mosquito net, not far from the port in the center of the village.
Mafia Beach Bungalow (Utende) - The cheapest solution in Utende (the one in the photo) starting from €30 per night in bungalows.
Didimiza Guest House (Utende) - Bungalow 10 min walking from the main beach. Double rooms starting from €45 per room, breakfast included.
Kinasi lodge (Utende) - Here cost and quality rise, beautiful bungalows directly on the beach with every comfort. From € 230 for two people per day including breakfast and wifi.
**** Note that even if some hotels advise WI-FI it doesn't always work. If instead you have a Tanzanian SimCard with datas or a modem if works from Utende but not from Kilindoni.
[/su_panel]
*** Photo Credit
Whale Shark - www.trufflepig.com
Snorkeling and diving - www.mafiaisland.com