What to do, which itineraries to follow, where to stay in Cape Town
All you need to know about one of the most beautiful cities in the world
When the chosen destination for the winter months was South Africa, prior to departure I met up with on many occasions a thought that kept tormenting me: Am I sure I want to go to an Africa that maybe is not Africa?
The trip from Rome took almost two days. I deliberately chose a very long flight that would allow me to embrace a dear friend in Addis Abeba and that would allow me to be able to enjoy a bit of the chaos in the Ethiopian capital that I had hated so much and then much appreciated, in my favorite country in the African continent.
I landed in Cape Town at 9am after an overnight journey on an uncomfortable Ethiopian Airlines flight, departed from Addis at 23.40. The clutter and disorganization of the airport of Addis seems distant history in this huge, spacious, empty and silent airport of one of the cities considered one of the most beautiful in the world.
1 hour later, in an easy and fast way thanks to the public transport, that according to me functions perfectly, according to some locals to be avoided like the plague (better Uber says the blonde I met in the Wild Coast), I can finally collapse into a deep sleep in the bed of the hostel where I will spend the first two nights.
South Africa inevitably can only make you think about its turbulent history, that if during the first few days I tried to probe tentatively, as the weeks passed I faced no problem mindful of the fact that history is a fact and that if it is true on the one hand that the whites/blacks separations in predominantly white towns exist, they are clearly seen and are a reality, on the other hand, I realize that a history of abuse lasting 200 years and ended quite suddenly not even 20 years ago requires time to be metabolized and changed so as to give South Africa a real Rainbow country even for just a single generation.
My traveling companion in the history of South Africa was the book that I consider of vital importance today, A rainbow in the night, which with historical impartiality tells the genesis of the apartheid phenomenon taking us up to the present day that could not be better concluded with a life to a township, which has nothing to do with an around the world of the poor but instead tells of a past history and its evolution working on projects aimed at communities without leaving anymore room for questions without answers.
I spent a few weeks in Cape Town and so I did get the opportunity to discover also in aspects that obviously one who has only two days at disposal probably cannot. The truth is that this city, and the surroundings, deserves at least 4 if not 5 days.
Of all the activities that I had done I will list those that have impressed me most and that I recommend to everyone, beginning with the classic destinations concluding with those less classic (because one has no time).
I know that this is a LONG post, which is why I have organized the whole into chapters, if you're not interested in the entire post you can get to the chapter of your interest simply by clicking on the title.
I hope that these weeks of work (yes! Weeks!) will be useful to and can help you orient yourself in this town that is rightly considered one of the most beautiful and intriguing in the world.
What to do in Cape Town
Two days are not enough in Cape Town and in truth, not even 5 would be enough, the only city worth taking a plane flight to discover this corner of South Africa absolutely sui generis in which we can deftly manoeuvre between beautiful coastlines, sea villages, museums, history, art, culture and Eno-gastronomic experiences.
In this guide, I decided to list all that you can do while also helping you to follow itineraries so to make the most of the many opportunities offered by the city but not always easy to find.
During my stay in Cape Town, my friend Dirk, writer and photographer of whom a book should be written in the light of his incredibly interesting past (and a little suspicious), was a vital character in the choice of things to do and the itineraries to be followed (in the province and the rest of the country).
My gratitude, then, to Dirk and Kathy that thanks to their stories and their thorough knowledge of the city have made it so that I could discover this city exactly as I wanted.
For those who wish to meet them it will be enough to simply do as I did, book a room that they rent out on airbnb and live a "South African experience".
Cape Town districts

Cape Town at first sight especially if you do not have your own means of transport may seem small, the center is easy to explore on foot, a day is enough to discover the outstanding places, but the city is huge and, to understand the variety, I do not think it's a bad idea to consider some alternative and different neighborhoods that tell of this variegated and vibrant city which is, effectively, closer to one of our European capitals than that of any African city (which can be found in the same South Africa, like East London or Port Elizabeth and, in part, Durban in its center of Indian prevalence but that's another story!)
Central Cape Town
In the center of Cape Town, glass and steel buildings of mid-sized alternate themselves with street vendors selling everything, from flowers and fruits up to the clothes and cigarettes.
A concentration of modern skyscrapers and historic buildings dating back to the 1600s and Art Deco, this area of town is small enough to be discovered on foot, best way to come across the many galleries, cafes and markets.
[/su_panel][/su_content_slide]
[su_content_slide][su_panel]
Boo Kap
Bo-Kaap is the nerve center of the Muslim population of Cape Town, here is where the oldest mosque in South Africa can be found.
What makes this neighborhood probably the most famous of all the city is the host of houses with colorful walls.
Every Saturday a market is held in Wale Street, near the corner of Rose Street.
[/su_panel][/su_content_slide]
[su_content_slide][su_panel]
Waterfront Inn and Sea Point
The V & A (Victoria & Alfred) Waterfront is the culmination of a long-term project, undertaken to give new life to the city's old port. Although it might seem a bit false, a sort of concentration of shining restaurants and a huge shopping mall, in truth can be an interesting place where to begin the walk to get to Sea Point.
The Sea Point is, in fact, a nice walk along the ocean extending from its southernmost edge up to Mouille Point.
[/su_panel][/su_content_slide]
[su_content_slide][su_panel]
Costantia
This area is mainly residential and is home to some of the oldest wineries in the Cape. It also offers excellent restaurants where to try the excellent South African meat accompanied by top quality wine.
Constantia is located about half an hour's drive from Cape Town and is necessary a car to get around.[/su_panel][/su_content_slide]
[su_content_slide][su_panel]
Gardens
This is one of the affluent neighborhoods of Cape Town and is populated largely by young professionals.
In this neighborhood there are numerous restaurants, bars, hotels, shops, and many beautiful houses too.
Its main streets, such as Kloof Street, are full of funkyand pleasant boutiques to explore on foot.
[/su_panel][/su_content_slide]
[su_content_slide][su_panel]
Green Point
This residential and commercial area which is right in front of the gigantic stadium is home to several dining options, most of which are in the Main Road (or Somerset West). Here there are many hostels, ideal for single travelers and backpackers.
[/su_panel][/su_content_slide]
[su_content_slide][su_panel]
Hout Bay
Approximately 25 minutes drive from Cape Town this former sleepy fishing village on the Atlantic coast, is the gateway to the Chapman's Peak Drive.
A car is needed to get there but the road, leading in this area of Cape Town known for its fish and chips and its port, is amazing!
From Friday to Saturday here takes place the Hout Bay market where they sell handicrafts but there are also various food stalls and lots of craft beer.
[/su_panel][/su_content_slide]
[su_content_slide][su_panel]
WoodStock
A short distance northeast of the center, once gritty Woodstock has undergone a massive regeneration and re-evaluation in recent times and is now home to many galleries and restaurants. A name you can trust: Old Biscuit!
[/su_panel][/su_content_slide]
[su_content_slide][su_panel]
Wynberg
Known for its art scene and the famous jazz played at Swingers clubs, this southern suburb of Cape Town is an interesting and important passage way to discover the peninsula.
[/su_panel][/su_content_slide]
[su_content_slide][su_panel]
Blouberg e Table View
Located 25 km from Cape Town is probably one of the best views of the city, from here will seem to float in the water and almost a mirage city.
This stretch of coast is very windy and perfect for kitesurfing.
Recommended come for the sunset.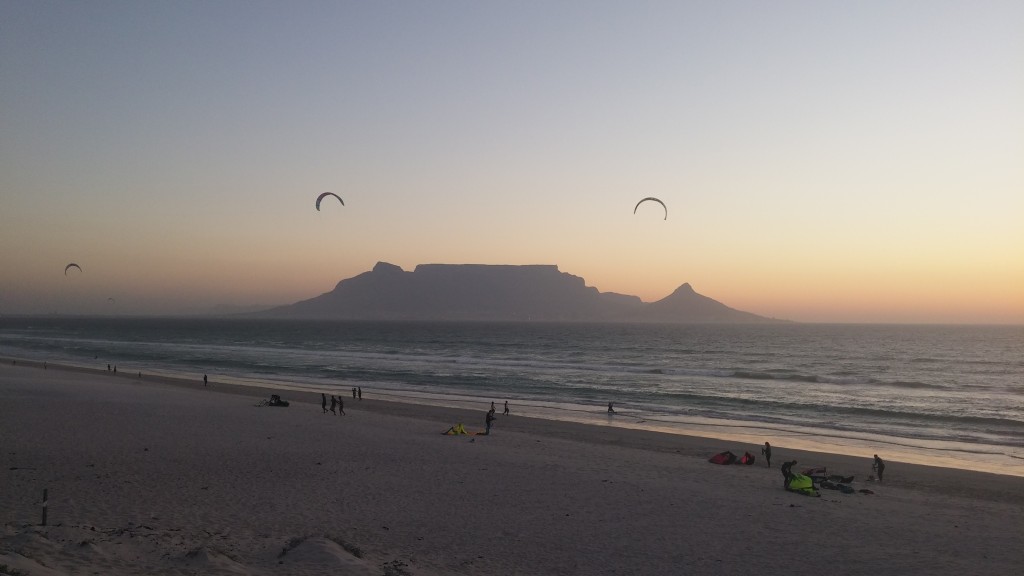 Panoramic tour of the city - Hop on Hop off bus
This solution I tried for the first time 10 years ago when I went for the first time in Poland and I immediately found it a wonderful experience as it allows you to get on and off a bus following a route designed expressly for tourists making a way to reach all the major destinations in the city and I must say that the Cape town route is really complete.
The routes are different, and the choice is vast:
1 day bus : ZAR 180
2day bus : ZAR 290
Sunset bus : ZAR 120
Bus & helicopter: ZAR 850
Cape Point Tour: Zar 3100 (one full day)
For more info, tours, costs and itineraries click here 

The Peninsula of Cape Town (1 day by car)
In truth this trip can also be done with an organized tour but in that case good part of the way I mentioned would be skipped, it is worth it at least for a day, if you really do not want to rent the car (which in any case in the end is an investment seeing the low rental costs) for the entire duration of the stay.
Personally I opted for the DIY tour in the car, this following is the itinerary map. Departure at 8 am and return at 8 pm.
The stops can be the following:
Cape Town
Costantia (the wine region) alternatively the botanical gardens
Meutzemberg (famous for the colorful Victorian era cabins)
Simons Town e Boulders Beach (where there are the penguins)
*** Here there are two entrances, the ticket is valid for both, on one side the walkway to see the penguin colony and on the other a small accessible beach where there are penguins and where you can swim.

False Bay Coastal Road (a beautiful drive along what in the past was erroneously mistaken for the bay of Cape Town (which is why the name of False Bay, False Bay)
Cape Point Nature Reserve and Cape of Good Hope (The natural reserve of Cape Point)
Chapman's Peak Drive (another beautiful passage in the car along the sea)
Hout Bay and Victoria Coastal Road (a steep drive down the coast)
Return in Cape Town
Organized tours to the Peninsula
For those who do not want to rent the car or solo travelers that want to share this experience not paying a lot of money, is possibile to take part to tours.
The options are different and prices vary between € 50 and € 70 per day per person, depending on the duration (from 4 hours to a full day, tour which I recommend because it is worth spending at least 8 hours).
Choose the one you like and save money!
Table Mountain
You cannot not go to the Table Mountain and the spectacular option is to do it in the rotating cable car, although for the more adventurous and sportive it is possible to reach the top by walking.
Needless to say, a lazybones as I did not think twice to go up by funicular.
Cost per person:
Adult: ZAR 240 (a/r) or ZAR 125 (one way)
Children from 4 to 17 years: ZAR 115 (a/r) or ZAR 60 (one way)
Children from 4 to 17 years: ZAR 115 (a/r) or ZAR 60 (one way)
TIP
**** My advice is to buy tickets in advance to avoid the line, which can be very long. In case you want to buy the "special Sunset" or rather, the ascent at sunset at special price remember that there are ONLY 180 tickets available so the sooner you book the higher the chance to find discounted tickets.
**** I also urge to call before you get to the entrance because in case of wind, the service may be suspended, call one hour before you go its a good idea to avoid a trip in vain (cape town can be very windy). In the event that you have bought your ticket online, and, unfortunately, the cable car is closed the ticket will be refunded by request via the site.
The number to call to find out if the cable car is open is: +27 (0)21 424 0015
An auto responder will inform about the status of the cable car.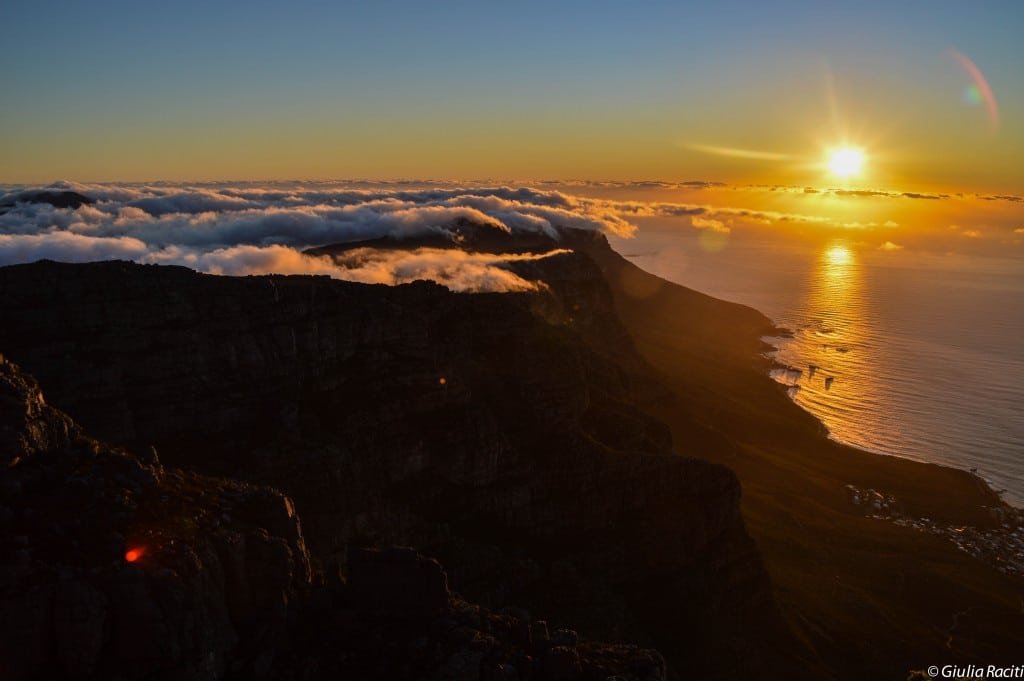 Robben Island
Here Nelson Mandela spent 27 years in prison, an island just off the city completely isolated.
Today, this tour allows you to reach the island by boat, departing three times a day (9:00 a.m., 11a.m. and 1p.m.).
Ferries leave from the Nelson Mandela Gateway at the V & A Waterfront. The tour lasts 3.5 hours including the ferry trip to and from the Island.
Landing is at the Bay Harbour of Murray located on the east coast of the island to take a short walk to the bus that will take you to all the historical sites around the island, running alongside the buildings used to house the families and lawyers of the detainees when visiting and a high wall built by the prisoners in the 1960s.
The guides are former political prisoners and the walk in this prison will lead to knowing the history, see the bunkers and the maximum security cells to culminate with Nelson Mandela's cell, the FATHER of South Africa.
Tours from Monday to Sunday
Departures at: 9:00, 11:00 and 13:00
Cost per adult: ZAR 300
Cost per child: ZAR 160
Historical museums - District Six Museum and the Slave Lodge
District Six
The museum itself did not excite me, the guide we had, a former inhabitant of district six, was long-winded, and speaking too softly during a hot sunny day.
But the District Six has a very important role in the history of South Africa of apartheid and it is right to make a visit to hear by voice what this district represented, it was one of the few mixed neighborhoods (like Sofiatown in Johannesburg) where all races lived together peacefully until it was decided that the neighborhood had to become all white forcing families to leave their homes, razing them to the ground, and to move 20 kilometers outside the city center.
It is right to go because it is right to remember and especially in this museum that relates the most famous district of Cape Town.
Cost per person: 30 ZAR
Guide (former inhabitants District 6): ZAR 45
Official Website: www.districtsix.co.za
Slave Lodge - Iziko Musem
The Slave Lodge is one of the oldest buildings in Cape Town.
In 1998 this museum was renamed Slave Lodge, "From human wrongs to human rights", the permanent exhibitions on the lower floor of this museum helps to explore the long history of slavery in South Africa, while other temporary exhibitions are designed to raise awareness of human rights.
WoodStock graffiti and Old Biscuit Mill
I love Woodstock for many reasons, a bit because it has the air of an African city put in a slightly bad way, a little for its graffiti in the streets and also because it is easy to find bars and sophisticated corners that could make me believe to be in some parts of Berlin.
This neighborhood has been upgraded recently, and today is considered the haunt of hipsters and artists and it's not hard to see why.
Wandering around the neighborhood finding works of street art is simple, if you prefer some company, street art tours are offered in this neighborhood.
Street Art Walking Tour
To get acquainted with the art on the walls of Woodstock, a street art walking tour can be a very beautiful idea. 90 minutes walk around the neighborhood on the discovery of this new art.
The tour begins from the interesting Exchange structure and for 90 minutes will take you on the discovery of this new and eclectic neighborhood.
Cost per person (minimum two persons to start the tour): ZAR 350 (€ 20)
Agency: Live Design Woodstock Street Art Tour.
Then of great attraction is the legendary Old Biscuit Mill that on Saturdays hosts the food market most eclectic of the city, and in this case we have the impression of stepping into Brick Lane in London.
The food market is only on Saturdays from 9 am to 14.
The Kirstenbosch Botanical Gardens
This place is enchanting and it is halfway between gardens and a park, if I had known in advance of what it was I would have brought everything necessary to organize a picnic in one of the many gardens.
This botanical garden is also home to the catwalk "above the trees", just 140m, which allows you to walk a height of 20 meters and admire a very beautiful view of the mountains and the sea of cape Town.
Opening hours:
Sept-Mar (summer) Mon- Sud - From 8am till 7pm
Apr-Aug (winter) -on- Sud - From 8am till 6pm
Ticket price: ZAR 55
Map price: 5ZAR
*** During summer time the gardens host concerts, check the official link out to discover the events: Summer Concerts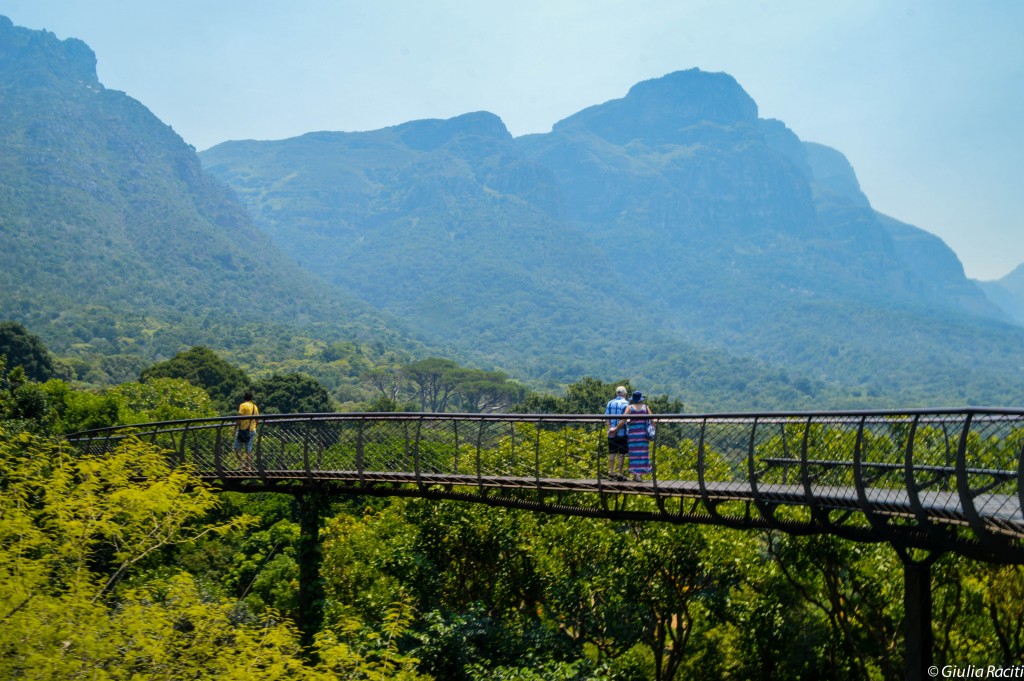 Visit to a township (and homestay) ****
I was very skeptical of this visit until the day that I met Lenka, a scholar and expert in South African history, in the savage Wild Coast and he told me that a visit to a township would have given many answers to my many questions.
A very valuable experience that has nothing to do with the curiosity of seeing how the poor live but that on the contrary, gives confidence to a new and young South Africa
The agency to which I have entrusted this visit is Vamos.
Cost of the 4-hour tour including lunch (at the home of a local lady): ZAR 490 per person (excluding transport).
TIPS
The most interesting day is the Sunday, in fact it is church day and here you can take part in the Gospel.
For those who have more days available, you can also organize some nights in homestay, an original way to fully enjoy the vitality of this neighborhood that perfumes of Africa. For more information click here
Drums session in Long Street (Sunday)
I love drums so much so that, in my future plans, there is the possibility of going to Senegal to learn to play the dejambe, there they are the masters, but for those who want to try it in a very special situation, Cape Town offers an interesting opportunity.
Every Sunday from 14 to 17 in a side-road of Long Street, 159 Longmarket street, the Touareg Trading an African crafts store offers music sessions where you have do not need to do other than choose your own percussion, sit down and start playing the rhythm.
The session is organized by Touareg Ente and is held every Sunday from 14 to 17 at 159 Longmarket Street, Cape Town.
It is not to be paid for but you leave a donation after playing. The percussions are supplied with instructions included.

Sea Point Swimming Pool
These are a refreshing treat in a city that unfolds and develops along a beautiful coast, but where it is not easy to swim because of strong currents, waves and also particularly cold water.
Cape Town offers a number of swimming pools set in turn in the sea where it is nice to take a dip and cool off after a long day in the heat or to spend a day swimming and bringing your own picnic.

Table View and Bloubergstrand
If Cape Town is beautiful even when standing at the foot of the majestic Table Mountain for me it becomes even more so when one moves away from the center and looks at it from 30 km away.
On the advice of Dirk, the German who for 40 years lived between Lesotho and South Africa who gave me hospitality in his beautiful home in Clermont, the best view of Cape Town is a bit further away so we drove up to Bloubergstrand to admire one of the most beautiful view of the city making it look like an island in the middle of the sea, a distant mirage.
Where to stay in Cape Town
I tried a bit of everything in Cape Town, from hostels, to rooms in private homes to a small apartment in Woodstock and I was always happy because being in all these different positions have made me taste different places making me get into the vortex of questions bent on the comprehension of this city that I find half way between Europe and Africa. Perhaps closer to Europe than to Africa.
I slept in a few hostels and my favorites are the following, I opted voluntarily to an area away from Long Street, that at night time is a bit too noisy, staying, instead, closer to the sea, at Green Point.
A Sunflower Stop Hostel  The guys who run it are lovely, the rooms spacious and the hostel has a bar and a swimming pool (which in the hot days back more than useful). Dorms from  $ 9.
Never@Home Hostel This is also very similar to the Sunflower hostel, as this is located in Green Point and an outdoor swimming pool. Dorms from$ 9.
APARTMENTS AND PRIVATE ROOMS
I have been also in three different apartments, in different districts so as to have had the opportunity to discover many Cape Town.
My preference is also in chronological order.
Dirk & Kathy - The room is beautiful and stay with Dirk and Kathy is a wonderful experience. The only downside is that you need a car as it is quite out of the center.
Christiaan - The location of the house is beautiful, right at the foot of the mountain and from the balcony you can see a bit of the sea. A 5-minute drive from Kloof Street in a quiet residential area.
For a discount of € 19 on the first reservation if you are not registered to Airbnb click here
HOTELS
Daddy Long Legs Hotel - Thematic rooms in the vibrant heart of the city overnight, Long Street. Double rooms from $ 6
African Home GuestHouse
Luxurious rooms and a wonderful pool in Sea Point. Luxury double rooms from $ 8

A suggested 3 days itinerary Cape Town and surroundings
Cape Town is lovely and is halfway between gardens and a park, if I had known in advance of what it was about I would have brought everything necessary to organize a picnic in one of the many gardens.
1 Cape Town city center - Waterfront inn - Table Mountain at sunset
The day starts at 9 am from District Six and the Museum, from there you can move to Market Street (on foot) and reach the Company gardens via Long Street and the Bo Kaap, the Muslim quarter of the city famous for the colored walls.
At this point we will move to the Victoria & Alfred Waterfront Inn to have a snack in the food market and a walk in the big shopping center and then continue the visit along the promenade of Green Point and Sea Point.
If you have some time you can bathe in the Sea Point swimming pool.
Around 17 drive up to the table Mountain, remember that it is better to buy your ticket in advance and to call before arriving, depending on the wind the cable car might be closed, and wait for the sunset.
For dinner, you can stop in Kloof Street which has a wide variety of restaurants, from those South African (mostly meat) to Asian and Mexican.
Cape Town Peninsula
Wake up early to get behind the wheel in the early morning, today there are lots of kilometers to be eaten up for a wonderful trip that will lead up to the Cape of Good Hope, and also to see the famous penguins of Boulders beach with which you can also swim.
The stages of this route may be the following:
Cape Town
Costantia
Meutzemberg
Simons Town and Boulders Beach
False Bay Coastal Road
Cape Point Nature Reserve and Cape of Good Hope
Chapman's Peak Drive
Hout Bay and Victoria Coastal Road
Back to Cape Town
The return to Cape Town will probably be around 17. Just in time for a drink at Sea Point, waiting for the sun to set. For dining, Green Point offers a variety of restaurants to choose from.
Langa Township and sunset in table view
The day begins at 9 am, this visit I highly recommend because it tells of a different South Africa and not at all sad as you might imagine, but rather full of hope and vitality.
The tour lasts approximately 4 hours, if you choose one with lunch at home, and ends around 13:30.
At this point from Langa, that is located near the airport you can drive up to Big Bay to spend a few hours at the beach and wait for the sunset watching Cape town from a different point of view.
Getting around in Cape Town
Although I believes that having your own transportation in Cape Town makes life easier, for those who do not want to rent, the solutions for getting around the whole of the city or in neighbouring quarters are as follows:
MyCity
MyCity - Network of public transport MyCiti card, that can be obtained quickly at the airport, before taking the bus leading to the Civic Center, it is valid for three years and can be recharged at many bus stations. The rides are extra mileage.
If you need to take more buses, pass the card on IN when you get on the first bus and then on OUT when you arrive at your destination, the buses are equipped with two different readers next to the driver. The key card will make all the calculations on its own.
Taxi
They are inexpensive and take you everywhere. Whether at the hotel or at the restaurant if you do not have a phone with South African SIM card anyone can call one for you.
Uber
The operation is simple and it works with an application. The application detects your location, enter the destination and an approximate cost will appear, a car will come pick you up. Payment is via credit card
Car Rental
I admit that with the car I went to places that otherwise I would not even have known existed, rental for 50 days with Rentalcars,, all inclusive insurance, it costed € 650 in total (a VW Polo with just 2000km when taken).
For the last two weeks in Cape Town instead we dared a "vintage" quite common in these streets, a CHICO of probably 40 years ago. Total cost € 125 Total insurance included. With this vehicle you cannot go out of the 200km from Cape Town. Rented with Rentacheapie.
***Keep in mind you can't drive too far from Cape Town if you rent the cheapest car with rentacheapie, make sure where you can go and you can't. Also, all cars have gps, they tend to not say it, not put it in contract, but they always know where you are and how fast you are going. If you drive faster than you are supposed to, then you will be fined by the company. Keep an eye and drive safe!